David Zeiler:  That Apple Inc. (NASDAQ:AAPL) sold a record number of iPhone 6 models – more than 10 million – in its first weekend only hints at what the product will mean for Apple stock.
Even though the total handily beat the first three days of sales of last year's duo of the iPhone 5s and iPhone 5c, demand far outstripped supply.
"We could have sold many more iPhones with greater supply and we are working hard to fill orders as quickly as possible," said Apple Chief Executive Officer Tim Cook.
The two models, the 4.7-inch iPhone 6 and the 5.5-inch iPhone 6 Plus, went on sale Sept. 19 in the United States and nine other countries.
That roster will expand to 20 countries Sept. 26 and to 115 countries by the end of the year.
That means the 10 million sold in the first weekend really is just the tip of the iceberg.
It's a very favorable comparison considering the fact that, unlike last year, the huge Chinese market wasn't in the first wave.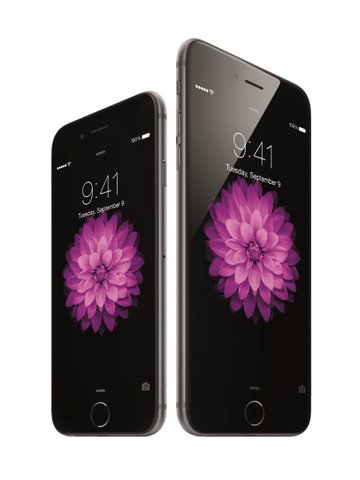 In addition, the tremendous amount of pent-up demand for the larger screen sizes – the iPhone 5 screens were just four inches – will drive strong sales of the iPhone 6 models long beyond the opening weekend.
Given that the iPhone contributes about 60% of Apple's profits, that's great news for AAPL stock, which was hovering around $101 today (Monday).
"Demand is clearly there for the phones – in the tens of millions right now – and significant demand will likely spill out of September into future months," said analyst Ben Reitzes of Barclays.