Przemyslaw Radomski, CFA: Last week, after the Fed said it would stick to its stimulus plan for now, the yellow metal gained more than 4%, leading the rally in commodities, and rose to a new one-week high. At the same time crude oil extended earlier increases and finally gained over 2% on Wednesday. However, during this euphoric rally, investors overlooked that it was fueled by a weaker economic outlook from the Fed. Therefore, the improvement didn't last long and we saw a quick profit-taking during the last two sessions of the week. In this way, gold gave back almost 60% of the previous sessions' gains and dropped to $1,325 an ounce on Friday. What's interesting, at the same time light crude has declined sharply, erased all September's gains and reached a new week low.
Taking the above into account, investors are probably wondering: which of these commodities should I choose? Which has a better upside potential in the near term? Can we find any guidance in the charts? Let's take a look at the charts below and try to find answers to these questions. We'll start with the weekly chart of crude oil (charts courtesy by http://stockcharts.com.)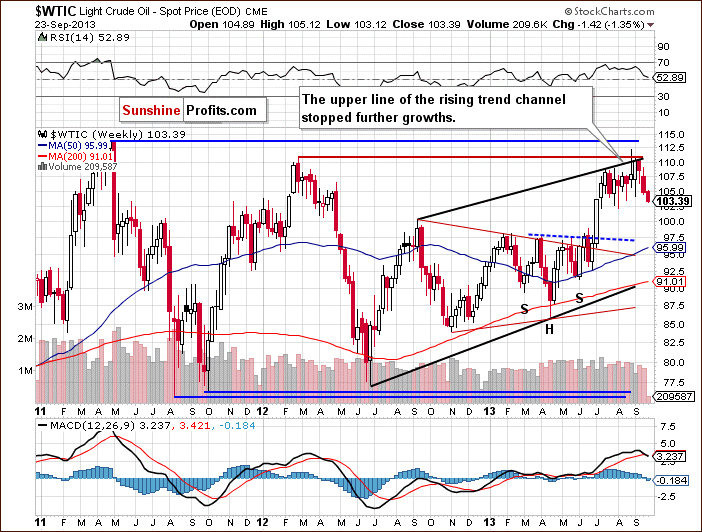 On the above weekly chart, we see that after three unsuccessful attempts to break above the strong resistance zone based on the March 2012 top and the upper border of the rising trend channel, oil bulls lost their power.
Just like in the previous week, oil bears noticed the opportunity to go short and triggered another corrective move, which pushed the price of crude oil slightly above the September low. On Monday, we saw further deterioration and light crude dropped to its lowest level since August 5.
From this point of view, the situation is somewhat mixed. On the one hand, crude oil still remains in the upper part of the rising trend channel, which is a bullish factor. On the other hand, three unsuccessful attempts to break above this level resulted in a decline to a new September's low, which doesn't look so bullish.
Want More Great Investing Ideas?