Kent Moors: The dive in crude oil prices continued Monday as yet another sell-off targeted the energy sector for a particularly big hit.
Of course, this too shall pass.
The crude oil markets are oversold, and a rebalancing will bring prices back up a bit over the near term.
But the prospect of a protracted decline in oil prices is beginning to have broader policy implications in dangerous parts of the world, where rising prices have been the norm for most of the last decade.
I'm talking about what is going on in countries like Libya, where what's underway now could become the standard for wider regional instability.
As this situation develops, it could quickly get downright nasty…
Three Reasons Why Oil Prices Are Falling
As it stands, West Texas Intermediate (WTI), the New York benchmark crude rate for futures contracts, has fallen 14.2% since its most recent high on June 19. London Brent also hit its most recent high on the same date and has since fallen 15.8% through yesterday's peg.
There are three reasons behind this decline.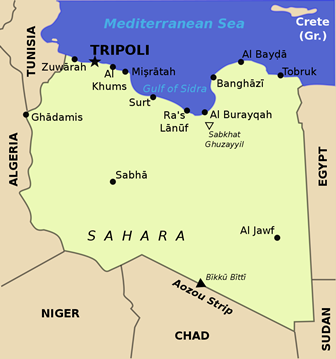 First, unconventional crude production in the United States, and unconventional and heavy oil extraction elsewhere in the world, has changed the supply-side dynamic. Of course, these expectations will be revised as production rates change. But in the short term at least, the availability of shale oil is putting downward pressure on oil prices.
Second, this is also the time of year – between the end of the summer driving season and the beginning of the transition into heating fuel for the winter months – when a decline in oil prices usually occurs. Only this year the decline has been more pronounced than usual.
Finally, and this is the truly unusual element, the presence of significant geopolitical tension is simply being discounted by oil traders. For instance, consider all of the uncertainties in the world today. A civil war and governmental paralysis has effectively taken all of Libya's exports off the table. Iraq is in utter turmoil. And Ukraine is gearing up for the next phase of its crisis, since it doesn't have enough energy in storage to meet the advancing winter.
Traditionally, a troika like this (combined with some smaller other events) would be enough to spike oil prices. In fact, that is exactly what happened in mid-June when all three of these crises seemed to collide.
But then something unexpected happened.
Apparently, traders are not of the opinion, at least not yet, that the current geopolitical matrix is having a direct impact on the availability of oil. Adequate supply-side calculations, combined with some demand abatement, have only bolstered this approach.
Want More Great Investing Ideas?