Kent Moors: As the volatility in oil prices has proven over the past several weeks, there is no roadmap for this new environment.
While traditional notions of supply and demand drive the knee-jerk reactions to gyrating prices, the truth is nobody has a clear read on where the market is going in the very near term.
However, the medium term is more easily identified.
And by medium term, I mean where oil prices will be by the end of the second quarter and shortly thereafter.
Over that time frame, the prospects are good for a move up…
Oil Prices: Forget About the Talking Heads on TV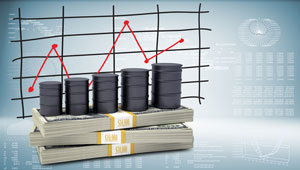 That's true despite the fact that crude oil prices are dropping again into a range that should see a near-term floor near $42 a barrel for West Texas Intermediate in New York and $52 a barrel for Brent in London.
Despite a weekly decline of almost 5.2% in New York and 4.4% in London through the close yesterday, there is actually little pressure for a protracted downward spiral in oil prices.
This is where it is important to distinguish what is actually supportable in this market versus the doom-and-gloom story touted by the talking heads on TV.
At the moment, the biggest concern affecting oil prices are the high surplus supply levels. This is especially true in the United States, but it is also emerging elsewhere in the world.
In fact, in its just released monthly report, the International Energy Agency (IEA) is now projecting a more prolonged oil glut than initially forecast. In particular, U.S. oil production jumped 115,000 barrels a day in February, which according to the report "would lead to renewed price weakness."
However, that's based on two factors that will simply not continue: production levels staying where they are, and a lack of capacity to store the excess production.
Now don't get me wrong. I am not suggesting that we are moving into an environment that will send us back to $90 a barrel by the end of the summer.
But I do believe oil prices will climb significantly by late August…
Assuming there are no new geopolitical "wild cards" that cause prices to spike higher, I believe oil prices will rise to about $58 a barrel in New York and $65 a barrel in London.
And remember, what we've come to recognize as high oil prices are no longer necessary to generate some nice returns on retail energy investments.
The truth is the oil/natural gas sector is entering a very competitive and profitable environment. As the mergers and acquisitions (M&A) cycle heats up throughout the year, that competition will provide a number of fantastic new opportunities, along with some excellent existing niche plays.
As the M&A cycle kicks in, smaller highly leveraged companies will become the targets of other American operating companies seeking to add to their book reserves by picking up assets at a market discount.
The combination of a potentially massive global supply glut coupled with energetic M&A activity is bringing us into virgin territory.
Estimating the "trigger price" of oil that will cause a meaningful reduction in production while at the same time finding and valuing acquisition targets is simply unique in my 40+ years in the business.
Even so, the latest IEA projections and some of the amateur reads on what it says misses the obvious: These projections are based on extrapolating today's production rates far into the future.
What they don't account for is the accelerating industry pullback that has already begun.