Przemyslaw Radomski: Silver looks like it is about to correct. But when will the correction take place and how deep will it be? We try to answer these questions in today's essay. We also turn to the silver:gold chart that gives us clues as to which metal is likely to outperform the other in the weeks to come.
Mining executives met this week in a MINExpo convention in Las Vegas and the talk was mostly bullish. They heard  Newmont  CEO Richard O'Brien say that gold is presently trading more like a currency than a commodity. O'Brien told the audience that investment is the largest growing component of the gold market, currently comprising about 40% of demand. As more currencies weaken, such as the U.S. dollar and the Euro, O'Brien suggests the current bull market for gold will continue well into the future.
According to O'Brien, mine production is actually a minuscule part of overall gold supply, accounting for only 2% of above ground stocks, he said, estimating that a grand total of only 2,900 tons of gold will be mined this year compared with 2,818 tons last year.
However, gold supply will eventually be challenged as it becomes more and more difficult to find gold; it now takes an average of 17 years to mine gold from exploration to discovery. There has not been a significant discovery of five million ounces or more in reserves in 10 years. GET A FREE TREND ANALYSIS FOR ANY STOCK HERE!
The numbers tells us that annual global demand is considerably more than the amount of gold extracted from the ground. Demand was about 3,500 tons in 2000 and rose to 4,486 tons by 2011. Simple mathematics shows a deficit. In the past central banks were happy to sell some of their gold holdings and there is even an international treaty limiting the amount that they can sell each year so as not to undercut prices. But in the past few years instead of sellers, central banks have been net buyers.
The cost of exploration expenditure has gone up but the number of major discoveries has been falling. In addition, the average size of major deposit discoveries is declining as well as the average grade of discovered gold. Less gold in the rock makes it more expensive to extract. If it takes an average of 17 years to mine gold from exploration to discovery, the lack of major recent discoveries points to a production shortfall in the next decade with the gap between demand and production yawning wider.
Speaking of mines, Chinese and Venezuelan officials signed an agreement to jointly develop one of the world's largest gold mines. The agreement on Las Cristinas gold mine was signed Friday by Venezuelan government officials and the state-run China International Trust & Investment Corp. The mine in southern Bolivar state is estimated to hold about 17 million ounces of gold.
Summing up, there are some steps that are made in order to increase the supply of gold, but they will not really come into play (increase the supply substantially) in the near future. With higher demand and unchanged supply, the price should eventually move higher.
But before gold really starts to shine it may be outshone by silver, at least in the medium term. Let's turn to charts to find out why that may be the case. But first, let's have a look at the general, long-term silver chart (charts courtesy by  http://stockcharts.com .)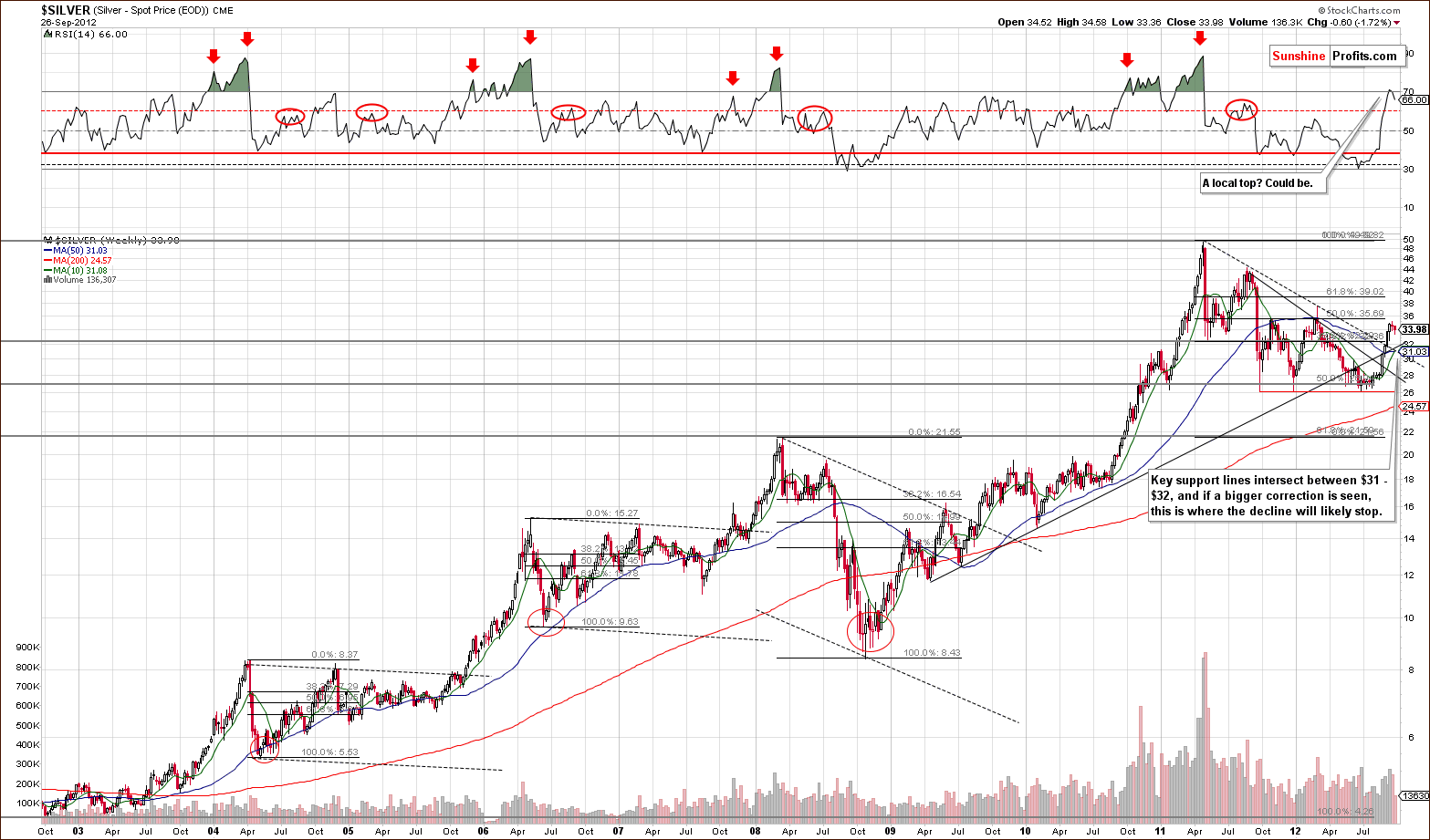 In the chart a very brief consolidation is seen with prices then correcting somewhat. The decline has not been nearly as spectacular as past declines and it is barely visible from the long-term perspective when compared to the size of the previous rally. We could very well see additional price declines before the next powerful move to the upside, simply based on the fact that the August – September rally was not followed by a meaningful correction just yet. No market can move in one direction without corrections and signals from other market also suggest that silver may need to take a breather.
Now, let's move on to a chart that shows us the performance of the white metal relative to gold. This chart can help us determine which of these two precious metals will outperform the other in the near future. GET A FREE TREND ANALYSIS FOR ANY STOCK HERE!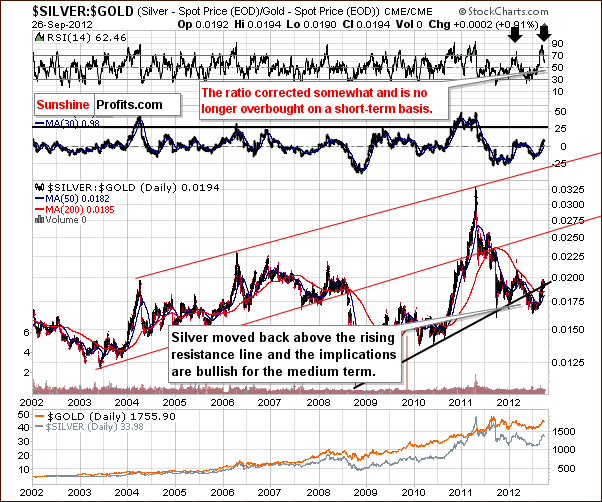 In the  silver to gold ratio  chart, the medium-term picture has recently improved greatly. The  RSI level is no longer overbought, and the ratio moved to a support line without breaking it. The medium-term picture is bullish. This means that when the next part of the rally takes place, silver may prove to be more profitable than gold.
Summing up, silver looks like it's about to correct, and this correction may or may not be seen immediately. A few days of consolidation is possible before a price correction, and it seems best to wait before entering any speculative long positions at this time. Also, when the rally resumes, the white metal may yield better returns than the yellow one.
Please keep in mind that the situation on the precious metals market may change quickly and what you read above may become outdated before you read our next free essay. That's why our premium subscribers receive Market Alerts as soon as anything important takes place – they remain covered at all times (for instance we sent a Market Alert today with a non-standard trading suggestion that should maximize the odds of making money on the coming correction if one is indeed seen). Moreover, our subscribers read full versions of our articles that we call  Premium Updates  – they are much more in-depth and thorough than free commentaries posted in this section, so by reading them you are better and earlier prepared when major changes regarding gold and silver occur. Premium Updates include price targets and trading suggestions as well. Our subscribers also enjoy up-to-date and tailor-made (!) ,  silver stock ranking  and  more . Traders particularly value the ability to track the accurate  SP Indicators  dedicated to the precious metals market without the weekly lag. We encourage you to  join our subscribers and also enjoy all of the above-mentioned benefits .
Thank you for reading. Have a great and profitable week!
Related: SPDR Gold Trust (NYSEARCA:GLD), iShares Gold Trust (NYSEARCA:IAU), iShares Silver Trust (NYSEARCA:SLV), ProShares Ultra Silver (NYSEARCA:AGQ), Silver Wheaton Corp. (NYSE:SLW).
Written By Przemyslaw Radomski From Sunshine Profits
Interested in increasing your profits in the PM sector? Want to know which stocks to buy? Would you like to improve your risk/reward ratio? Sunshine Profits provides professional support for precious metals Investors and   Traders.  Apart from weekly Premium Updates and quick Market Alerts, members of the Sunshine Profits' Premium Service gain access to Charts, Tools and Key Principles sections. Click the following link to find out how many benefits this means to you. Naturally, you may browse the 
sample version
 and easily sing-up for a 
free weekly trial
 to see if the Premium Service meets your expectations.