That's a much better representation of the small-cap asset class, which investors typically buy to get exposure to the fastest growing small companies in the market. The goal is, of course, to grab that extra performance from these rapidly growing companies during a bull market.
And as the following chart of year-to-date returns shows, the microcaps are handily outperforming their larger brethren. The IWC microcap index (red bar) is up 24.6% versus 21% for the IWM small-cap index (blue bar). For comparison purposes I also included the IVV mid-cap index (green bar) and S&P 500 Index (pink bar), which are up 19.3% and 15.2%, respectively.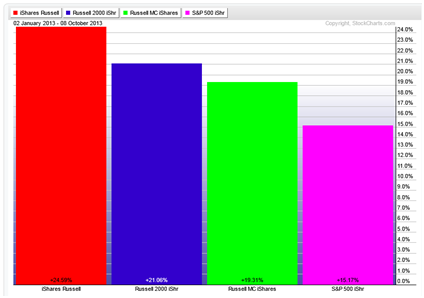 So not only are investors not getting the right small cap exposure with funds like IWM right now, they've also missed out on that extra performance that they're seeking during a bull market.
Just to set the record straight, I don't have anything against the IWM small-cap ETF per se. It's a good fund, with a lot of great companies in it. That's why shares of these companies are going up.
But as it's constituted right now, it's not giving new investors exposure to what I consider to be the small-cap asset class. To accomplish that goal without waiting until next May when the indices are reconstituted, a microcap ETF like the IWC is much better.
This article is brought to you courtesy of Tyler Laundon from Wyatt Investment Research.