On Wednesday, economic bulls were 2 for 3, which increased taper chatter in the financial markets. From Bloomberg:
Data today showed companies boosted payrolls in November by the most in a year. Labor Department data on Friday may show the unemployment rate fell to 7.2 percent, matching the lowest level since 2008. A separate report indicated service industries in the U.S. expanded at a slower pace than forecast in November, showing uneven progress in the biggest part of the economy. Purchases of new U.S. homes surged in October by the most in three decades, signaling buyers are starting to take higher mortgage rates in stride.
Investment Implications – Aggressive Tapering Not Likely
Could the Fed begin tapering this month? Sure they could, but Japan and fears of a deflationary spiral tell us an aggressive tapering schedule is unlikely. Looking at it from a different angle, if markets are pulling back due to tapering fears, that is not such a bad thing relative to what the bull market really needs – growth.

With the S&P 500 down roughly 15 points this week, we must keep an open mind about further downside. Since our market model relies heavily on weekly outcomes, we are more concerned how the chart below looks Friday at 4 p.m. EST.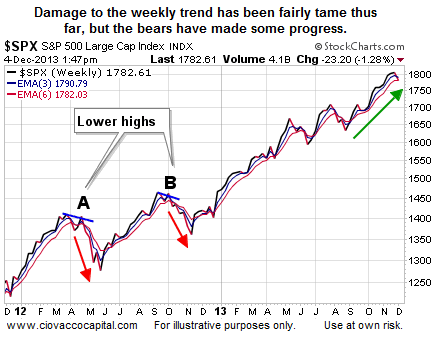 If weakness becomes significant enough to warrant a reduction in our exposure to stocks, we will not hesitate to make the proper adjustments before the end of the week. For now, some patience remains in order, allowing us to hold our stakes in U.S. (NYSEARCA:VTI) and foreign stocks (NYSEARCA:VEU).
This article is brought to you courtesy of Chris Ciovacco from Ciovacco Capital.