David Zeiler: With the Winklevoss Bitcoin ETF, more formally known as the Winklevoss Bitcoin Trust, on track for approval before the end of the year, and an exchange already selected (the Nasdaq), we're waiting on just one more big piece of news: the ticker symbol.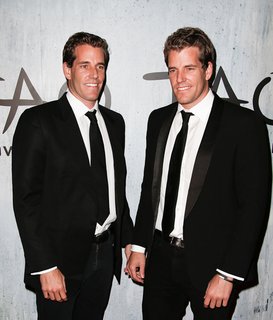 With a product as controversial as a Bitcoin ETF, choosing the right ticker symbol can help foster wider acceptance of the digital currency as well as make the ETF easy for investors to remember.
The Winklevoss twins, Cameron and Tyler, filed with the U.S. Securities and Exchange Commission (SEC) for approval of their Bitcoin exchange-traded fund last July.
The twins, best known for successfully suing Facebook Inc. (Nasdaq: FB) founder Mark Zuckerberg for $140 million for stealing their idea for a social network, say the Winklevoss Bitcoin ETF would function much like the popular SPDR Gold Trust ETF (NYSE Arca: GLD).
To duplicate that structure, the Winklevoss Bitcoin ETF will buy one bitcoin for every five shares of the fund. With the current Bitcoin price at about $575, one share of the Winklevoss Bitcoin Trust would today trade for $115.
But what should the ticker be?
The famous twins might be tempted to pick a vanity ticker like WINK, VOSS, or even TWIN. However, TWIN is taken and WINK exists on the London stock exchange (for Winkworth). And does anyone really want to see VOSS?
Another avenue of possibility open to the Winklevoss Bitcoin ETF is tapping into the digital currency theme with something like BIT, COIN, CRYP, or MATH. However, all of those tickers are already being used.
If the Winklevii want to play it straight, they could go for something like BTCF, combining the widely used abbreviation of Bitcoin with an "F" for fund.
But being just a bit more clever might produce better results. This is what the science says…