Jim Bach: Some investors will be tempted to buy Yahoo! Inc. (NASDAQ:YHOO) stock because they see it one day dethroning the likes of Google Inc. (Nasdaq: GOOG, GOOGL) or Facebook Inc. (Nasdaq: FB). But this warrants a closer look at where YHOO's true value lies.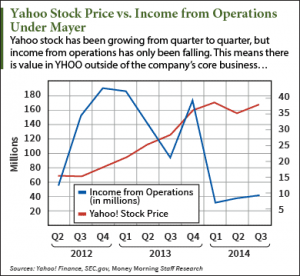 Especially since every small victoryYahoo Inc. (Nasdaq: YHOO) seems to secure is invariably greeted as evidence that Chief Executive Officer Marissa Mayer is successfully breathing new life into a struggling, once-great web portal and online services giant.
This was evidenced today (Thursday), when Bloomberg reported that Google is losing search market share. Analytics firm StatCounter released data showing that in December, the search behemoth's share fell to 75.2% from 79.3% the month before.
And Yahoo's search is up to 10.4%, from 7.4%.
But this is not the good news it appears to be. Here's the real story behind Mayer's most recent victory on search…
Yahoo's Unimpressive Search Market Growth
This added market share can be tied back to a move in November. Yahoo inked a deal with browser Mozilla Firefox to become its default home page. This was after ten years of Google's search platform fulfilling that role.
On its face, these headlines are exciting. They seem to suggest that Mayer is starting to challenge the dominance of her corporate alma mater, Google.
But that's hardly the case.
This jump is marginal, if not temporary.
"I doubt Google needs to worry. For one, that's probably the high water mark," Danny Sullivan, founding editor of Marketing Land & Search Engine Land, wrote in an e-mail toBloomberg. "Unless Firefox suddenly grows share, everyone who likely could get switched has been now. And Google might claw back even the small share gone."
We weren't thrilled with the Yahoo-Firefox deal when it happened. We still aren't.
Yahoo successfully wrestled from Google a property the latter never really needed in the first place. The two dominant browsers right now are Internet Explorer and Chrome. As they battle for the top spot, Mozilla is locked in at a distant third.
While not an acquisition in the traditional sense, the Firefox deal is representative of Mayer's tenure as CEO. Since 2012, she's notched 46 acquisitions. They have carried an almost $2 billion price tag. The only one of consequence was Tumblr; every other purchase is a virtual unknown.
And the return on investment? So far, these acquisitions have provided Yahoo with declining income from operations for nine of the last 11 quarters.
Eric Jackson of Ironfire Capital LLC, a large Yahoo stakeholder, summed it up eloquently in a piece for Forbes.com that he wrote in July. He characterized the typical Mayer purchase as spending "$30 million to hire 3 people from a dying company."