From Mike Hammer: Precious metals investors were breathing easier yesterday after silver (and gold) popped, continuing the week-long run. Reasons for the pop were many, which just means it was probably about time.
The trading questions are always the same: How far can it go, and can this move last? Let's see what the chart says. We'll use SLV – the unleveraged silver ETF – for this analysis, as this is where mom & pop / retail investors will go first if silver does stage a big breakout.  SLV has been running about a point below international silver prices so it's not much of an adjustment if you want to look there.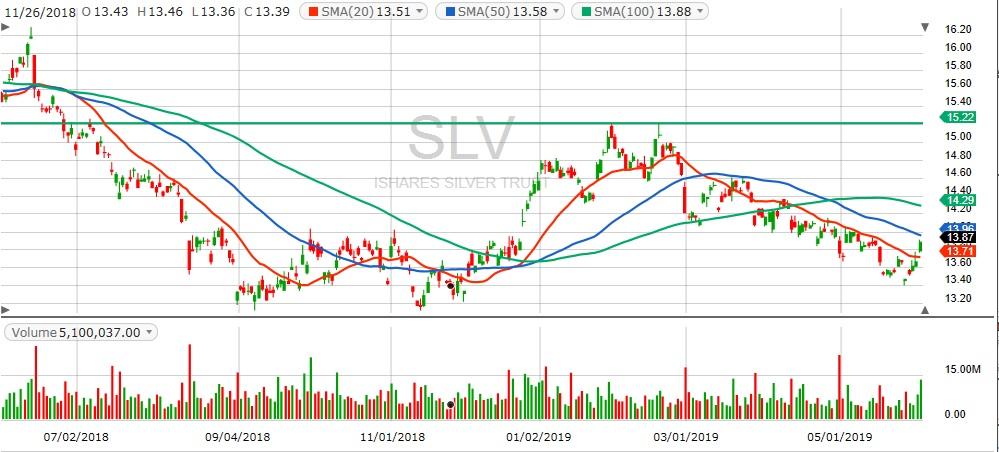 As we can see, silver has been in a downtrend for a while that basically followed the 20-day Simple Moving Average (SMA).  Equities do this sometimes; they'll bump along either just under or just on top of an SMA.  Typically this happens when the SMA is very short – 20 days or less – and the market volume is light. We can't really say silver volume has been light lately, it looks about the same now as it has for the past 5 years. So it could be that it's light in absolute terms and we just don't have a good reference anymore.  But volume is definitely not "heavy."
Yesterday's action stopped short of the 50-day SMA, which stands at 13.96 aka 14. Could the market be sensitive to whole-point prices?  If so, old-timers would breathe easy, as that would mean more retail investors were participating.  "Everyone knows" mom & pop are sensitive to whole-point prices, so if the rally paused here it could be interpreted as a sign that more people are in the silver market now.  Volume is a good thing in uptrends.
So it appears that 14.00 is the next hurdle facing this rally.  SLV seems to be ignoring the 100-day SMA so we will too. "The big one," according to this chart, is the double-top resistance at 15.23. But that's a ways away.
Some folks are saying this rally won't be "for real" until it goes above 14. As the move until now is in the past and we can't trade it anymore, that's true. And there is a whole point, or 8.8%, between 14 and 15, which is enough to trade against.
But for now, your Gold Enthusiast won't be going long silver. He might consider it above 14 though if a good risk-reward situation can be found.
Signed,
The Gold Enthusiast
DISCLAIMER: The author is long small amounts of FSM and SVBL, with no intentions of trading these in the next 48 hours. He may initiate a small-sized trade in another silver equity if the conditions discussed in the article are matched.
---
The iShares Silver Trust (SLV) . Year-to-date, SLV has declined -12.07%, versus a 8.22% rise in the benchmark S&P 500 index during the same period.
SLV currently has an ETF Daily News SMART Grade of C (Neutral), and is ranked #9 of 34 ETFs in the Precious Metals ETFs category.
---
This article is brought to you courtesy of StockNews.