Chris Ciovacco: On May 31, Reuters reported a Washington insider with deep experience in international finance said, "The day of reckoning is arriving". Investors in the United States have been fairly patient since May 15, hoping for some type of announcement in Europe (NYSEARCA:VGK). To date, some ideas have been floated, but nothing concrete has come from across the pond.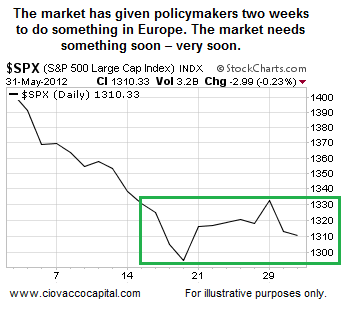 Economically, the debt burdens and austerity have taken their toll. Labor reports from Europe on Friday were not encouraging, and not surprising. From CNN:
The 17-nation eurozone's unemployment rate reached the highest level since the creation of the common currency 13 years ago, climbing to 11% in April as employers slashed 110,000 jobs. The unemployment rate in the broader 27-nation area that makes up the European Union rose to 10.3% in April, as employers trimmed 102,000 jobs from their payrolls. That was the highest EU unemployment rate on records that go back to 2000.
With November approaching fast, the Obama administration is getting very nervous. U.S. representatives have been racking up frequent-flyer miles and pushing their video conferencing equipment to the limit. FromReuters:
The message to EU politicians from U.S. Treasury and International Monetary Fund officials hopscotching among European capitals and holding meetings in Washington is two-fold: recapitalize your financial system quickly to stabilize banks, and then lay out a clear plan for the political future of monetary union. U.S. officials are tight lipped on specifics of their advice to Europe. But international financial officials and experts in Washington who are in regular contact with the IMF and the U.S. Treasury said there is a sense here that time is running out for Europe. "They're saying – Whatever you do, fix it, and this time fix it right," said one financial industry official.
From a technical perspective, the markets agree something has to happen in Europe…and happen fast. The chart of the VIX (NYSEARCA:VXX), or Fear Index, below is warning of possible further declines in stocks. The chart below looks complex – the concepts are easy to follow. When the VIX is rising, investors' fears are increasing (see black line upper portion). The colored lines are various simple moving averages, which are used to filter out day-to-day volatility, allowing us to focus on the bigger picture. The blue arrows show points where the moving averages began to turn up. The red arrows show where a momentum indicator, MACD, crossed the center line (bullish for fear, bearish for stocks). The bottom of the chart shows the performance of the S&P 500 (INDEXSP:.INX); stocks dropped for an additional four to six weeks following the blue and red arrows. The blue A and red B on the right side of the chart show the present day is beginning to look like case 1 and case 2, which means we should be concerned about risk assets.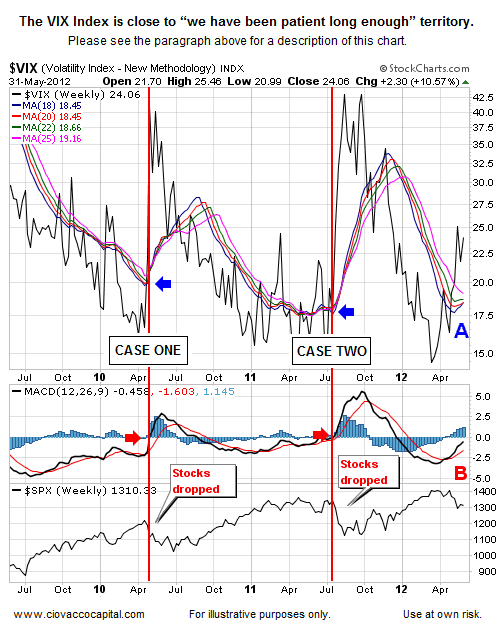 The chart of the VIX above shows fear is gaining bullish momentum. The monthly chart of the S&P 500 (NYSEARCA:SPY) below shows stocks have lost their upside momentum and are close to seeing downside momentum accelerate. The Rate of Change (ROC) indicator is a pure momentum indicator, measuring the percent change in price from one period to the next. The green arrow shows where ROC crossed the center line in a bullish manner – gains in stocks followed (2003-2007). The red arrow highlights a bearish cross in late 2007 – stock losses followed. The orange arrow shows the present day ROC is flirting with a clear bearish break of the center line, which is concerning for risk investors. It is also important to note ROC closed in negative territory (-2.59%) at the end of May. A monthly close is more important an intra-month break.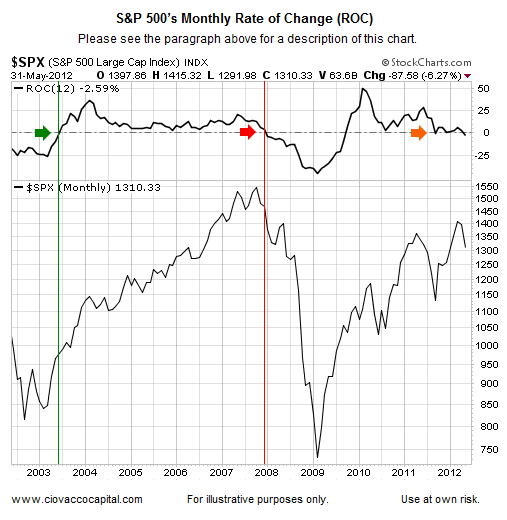 The video below describes the charts above in more detail, keying on possible scenarios and the impact on your investments. DeMark support and exhaustion counts are also reviewed on daily, weekly, and monthly charts. The video identifies key levels to monitor in the coming days and weeks, providing valuable input for future buy, sell, and hold decisions depending on how things play out in Germany.
After you click play, use the button in the lower-right corner of the video player to view in full-screen mode. Hit Esc to exit full-screen mode.

Written By Chris Ciovacco From Ciovacco Capital Management, LLC
Chris Ciovacco began his investment career with Morgan Stanley in Atlanta in 1994. With a focus on global macro investing, Chris uses both fundamental and technical analysis to assist in managing risk while looking for growth opportunities around the globe in all asset classes. If you are looking for an independent money manager or financial advisor, Ciovacco Capital is worth a look. Chris graduated from Georgia Tech with Highest Honors earning a degree in Industrial and Systems Engineering in 1990. His experience in the professional ranks began in 1985 as he began working as a co-op for IBM in Atlanta.
Ciovacco Capital Management, LLC (CCM) is an independent money management firm serving clients nationwide. By utilizing extensive research, disciplined risk management techniques, and a globally diversified approach, CCM prudently manages investments for individuals and businessowners. Our focus is on principal protection and purchasing  power preservation in an ever-changing global investment climate.
Want More Great Investing Ideas?