And a sum-of-the-parts valuation gives a troubling glimpse at just how Wall Street values this floundering online content and media giant.
Yahoo! Inc. (NASDAQ:YHOO) holds 383.5 million shares of Alibaba Group Holding Ltd. (NYSE: BABA) stock, worth about $31.4 billion at current market prices. Yahoo holds a further 2 billion shares in Yahoo! Japan, worth about $7.9 billion. Yahoo holds about $6.9 million in cash.
All of these holdings added together total $39.3 billion. Yahoo's market cap based on the most recent Yahoo stock price is about $36 billion.
That means when all is said and done, the market values Yahoo's core business at negative $3 billion.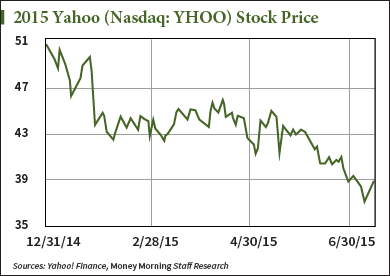 Yahoo stock is cheap at around $39. But when the curtains are pulled back and Yahoo's holdings are accounted for, the market price of Yahoo stock's core business is around negative $3.50 a share.
Granted, this is a very simplified way of assessing Yahoo stock and doesn't account for all the nuances being priced into the company at the moment. But this is the same sum-of-the-parts valuation model that Yahoo's bulls used in the run-up to the Alibaba IPO to deem it underpriced, and it helped Yahoo stock soar almost 200% under CEO Marissa Mayer.
But what is Yahoo stock's value? It's necessary to figure out so investors wondering "Should I buy Yahoo stock right now?" know how to answer that question.
Here's what you need to understand.
Why Yahoo Stock Is Down Big in 2015
If you're going by the sum-of-the-parts valuation, Yahoo stock is extremely underpriced right now.
Yahoo has the No. 1 online property on the web and more than 800 million viewers. Yet with those valuation metrics, the market is essentially saying that Yahoo's core business is not just worthless, it's a net negative. It's so bad that its mere presence is bringing down the value of its cash and stock holdings.
At worst, Yahoo's core business is worthless. And if the market valued Yahoo at least at zero dollars, the total Yahoo stock price accounting for all its other "parts" would be worth around $41.90 – not its current price of around $39.
That would be a quick 7.6% gain once the market values Yahoo correctly.
But there's more to consider…
The problem with that logic is that the market isn't pricing Yahoo stock based on what it thinks the value of the core business is.
It's moving almost entirely on news that could impact windfall gains Yahoo has promised to deliver to shareholders with the sale of the remaining stake in Alibaba.
Yahoo stock is down almost 25% this year for two reasons. One reason is that investors still fear the Internal Revenue Service is going to enact rule changes for spin-off transactions and disrupt the "tax-free" status of Yahoo's Alibaba stake.
They are also worried that the recent turmoil in Chinese markets is going to dampen the value of Yahoo's Alibaba holdings and limit the coming windfall.
So while you can hang your hat on the sum-of-the-parts valuation and buy Yahoo on the investment thesis that Yahoo is at least a worthless company, the rest of the market isn't buying and selling on that same logic.
Instead of hoping for a pop on supposed mispricing, you may want to steer clear right now, unless you're looking to buy a dip – but as a trade and not a long-term buy-and-hold.
If you're still in Yahoo stock, keep a watchful eye. This is not a stock you can buy and forget.
"Use your trailing stops, manage it appropriately, ask yourself every week, 'Hey, are the reasons why I bought this stock still intact?' If they are, hang on. If not, time to go. Move on to better opportunities," Money Morning Chief Investment Strategist Keith Fitz-Gerald said.
The Bottom Line: Yahoo stock has become less and less intriguing. It may seem cheap and underpriced, and that may seem reason enough to buy Yahoo stock now, but the market isn't too concerned about the core business. They are reacting solely to news that will affect potential windfall gains on the sale of Yahoo holdings. Maybe Yahoo is worth a trade right now since it's so cheap, but if you're waiting for the market to find value in what is largely a worthless core business, you're better off looking for another company than Yahoo, which as Fitz-Gerald puts it, "is never, ever going to achieve the glory that it once had."
Written By Jim Bach From Money Morning
We're in the midst of the greatest investing boom in almost 60 years. And rest assured – this boom is not about to end anytime soon. You see, the flattening of the world continues to spawn new markets worth trillions of dollars; new customers that measure in the billions; an insatiable global demand for basic resources that's growing exponentially; and a technological revolution even in the most distant markets on the planet.And Money Morning is here to help investors profit handsomely on this seismic shift in the global economy. In fact, we believe this is where the only real fortunes will be made in the months and years to come.