However, year-to-date it has been the lesser known IQ South Korea Small Cap ETF (Nasdaq:SKOR) that has outperformed. The return – 23.2 percent.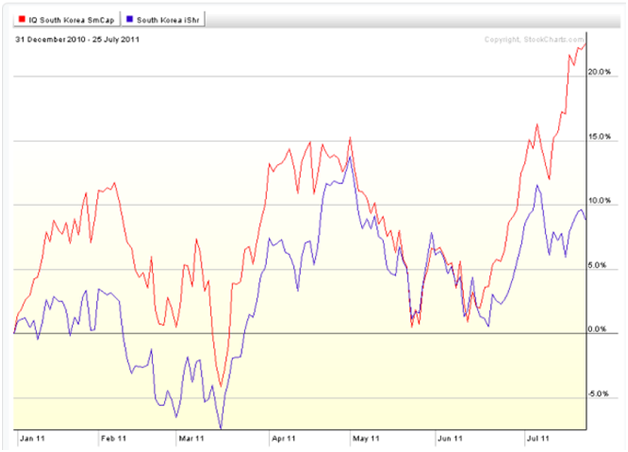 Why is this ETF, and for that matter, the broader South Korean stock market, doing so well?
South Korea arguably boasts the greatest high-tech, innovation-based economy in the world. It does not rely on mineral mining or low-skilled manufacturing like China and India.
It can't.
The country has very little natural resources to fall back on. So South Korea, the 26th most populous country in the world, has strategically positioned itself to be a global leader in the high tech and automobile industries.
I say strategically, because South Korea has long yearned to be the greatest technologically advanced society in the world. South Koreans love tech, and they love to be connected.
According to Eric Dutram of ETF Database:
South Korea boasts the largest percentage of households with internet access at 94.3 percent.
The country has the highest download speeds in the world. Roughly 3.5 times faster than the United States.
Dutram goes on to state, "South Korea has a population of just under 49 million people – making it the 26th most populous country – but it is in the top 10 for dollar value of both exports and imports. This suggests that the country is highly connected and integral part of the global economy."
Samsung (OTC: SSNLF.PK), LG (KSE: 066570.KS), Hyundai (OTC: HYMTF.PK), SK Telecom (NYSE: SKM), and POSCO (NYSE:PKX) are some of the better known companies, but there are also many small cap regional companies that few Americans know about.
Unfortunately, none of the South Korean small cap stocks trade on U.S. exchanges.
However, with the advent of niche-based ETFs, not all is lost. About one year, the self-dubbed 'pioneer in developing innovative index-based investment' strategies, IndexIQ, decided to introduce an ETF based on smaller, regional-based companies in South Korea. The result, the IQ South Korea Small Cap ETF (Nasdaq:SKOR).
SKOR consists of 98 South Korean small cap stocks with an average market cap over $18 million.
The top holdings in SKOR are:
SKC Co. (2.9%)
STX Offshore and Shipbuilding (3.3%)
LIG Insurance (3.3%)
Korean Reinsurance (3.2%)
Sfa Engineering (3.1%)
The ETF has an expense ratio of 0.79 percent.
For the first time we now have easy access to the domestic companies that make up the fiber of the South Korean economy. And SKOR offers the best "pure play" on the high-tech nation of South Korea.
Furthermore, investing in SKOR offers a great way to diversify your international exposure while investing in some of the best small cap companies – in one of the fastest growing developed nations in the world. 
Wyatt Investment Research is led by founder Ian Wyatt, who serves as Publisher and Chief Investment Strategist. Our team also includes a group of talented research analysts and editors who aim to uncover great investments and present those investment ideas to our growing group of loyal subscribers.Ian Wyatt is an active investor, a well-regarded investment expert and an Internet entrepreneur. He is the Chief Investment Strategist at Wyatt Investment Research, and plays a leading role in each of the company's investment newsletters and trading services. As a well-regarded market expert, Ian has written for Marketwatch, Zacks Investment Research, Seeking Alpha, Yahoo! Finance and The Burlington Free Press. He has been interviewed or quoted in articles in well-known publications including AOL Finance Blogging Stocks, Kiplinger's Personal Finance Magazine, Barron Magazine, Barrons.com, Forbes.com, The Dick Davis Digest, The Dick Davis Income Digest, The Wall Street Transcript, TheStockAdvisors.com, Money Show Digest, The New Jersey Star Ledger, The Wisconsin State Journal and The Seattle Times.