"livestock."
One day a few of the yard chickens got into some fallen fermented berries. As a young kid, I thought it was one of the funniest sights ever. It made me a devotee of low-brow slapstick comedy for the rest of my life. Those chickens would flop to the ground, suddenly stand straight up as if reveille had sounded, stagger a few paces, flop to the ground again, and do it all over until they were flat-out exhausted.
Welcome to The Drunken Chicken Market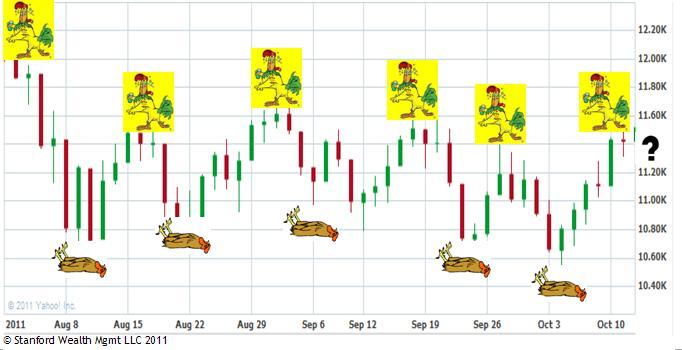 We have been in a trading range between roughly Dow 10,700 and 11,500 since the end of July. This most recent rally hit the ceiling right around 11,500 once again. And, just as it has every other time it hits this ceiling, Wall Street sobers up its platoon of quotable gurus to flood the TV and print media proclaiming the end of the Bear.
Oops. Not so fast, boys. Of course, every time it falls back down, platoons of newsletter writers proclaim Armageddon is upon us. What to do if you are exhausted from the emotional roller-coaster and just want it to be over with?
I say: relax. The market WILL break out of this trading range. It isn't all that unusual to see a tug-of-war like this as we enter the vicinity of major market moves. My original thinking, expressed in my articles beginning in mid-June, was that we would break to the downside during the summer, falling as low as the 9700 area by October, then power out of it en route to a new bull high. So far, I've seen nothing to contradict that view, but a bit less to support it as the market seems stronger each time it arises from the low end of the range.
Our strategy? Remain hedged on the sidelines. We avoided the 14.4% decline in the 3rd quarter; we aren't about to get whipsawed now.
Until we see an actual breakout from this Drunken Chicken market, we'll stay in bonds, cash, a few select companies we believe in for the next year and puts we are beginning to write on a few more, while retaining a small position in un-leveraged inverse ETFs. (We no longer buy any leveraged ETFs — in a chicken market like this one, the whipsaws can kill you.)
Until the market is done bouncing from the ceiling of 11,500 to the floor of 10,700 and back again (and again) we are just cooling our jets.
What's the next move for the markets? I don't know – and neither does anyone else, no matter what they claim. That's why, in a market that staggers ahead, then flops back down, then staggers ahead, we are saving money in two ways: (1) building our portfolio quietly, keeping most of our powder dry while selectively buying a few great stocks like those we've mentioned here and here as they hit the low end of their one- and two-year range, and (2) every bit as importantly, saving a whole lot of money on Rolaids, Tums and Pepto-Bismol…
Written By Joseph L. Shaefer From Stanford Wealth Management LLC
Disclosure: I have no positions in any stocks mentioned, and no plans to initiate any positions within the next 72 hours.
About: Joseph L. Shaefer is the CEO and Chief Investment Officer of Stanford Wealth Management, LLC, a Registered Investment Advisor. A retired General Officer, he spent 36 years of active and reserve military service, the first six in special operations, the next 30 in intelligence. He is professor of Global & Security Studies (Intelligence, Counterterrorism, Illicit Finance, etc.) at American Public University / American Military University. He analyzes the Big Picture first, then selects asset classes, sectors and individual securities.
The Fine Print: As Registered Investment Advisors, we see it as our responsibility to advise the following: we do not know your personal financial situation, so the information contained in this communiqué represents the opinions of the staff of Stanford Wealth Management, and should not be construed as personalized investment advice. Past performance is no guarantee of future results, rather an obvious statement but clearly too often unheeded judging by the number of investors who buy the current #1 mutual fund only to watch it plummet next month. We encourage you to do your own research on individual issues we recommend for your analysis to see if they might be of value in your own investing. We take our responsibility to proffer intelligent commentary seriously, but it should not be assumed that investing in any securities we are investing in will always be profitable. We do our best to get it right, and we "eat our own cooking," but we could be wrong, hence our full disclosure as to whether we own or are buying the investments we write about. © J L Shaefer 2011