An Expanding Triangle.
An Inverted Triangle.
A Broadening Top formation.
I will refer to it as a "Broadening Top" formation. There are two ways to classify a pricing pattern and that is a continuation pattern or a reversal pattern.
Continuation patterns represent a rest or consolidation before resuming the trend. Consolidation is temporary balance between supply and demand.
A reversal pattern indicates a change in trend. Before a major reversal happens it is common for a market to make three pushes to re-establish the prior trend. A Broadening Top is similar to both a "Triple Top" and a "Head and Shoulders" pattern but with the right shoulder of the broadening top being the highest peak and it has a downward sloping neckline rather than a horizontal or rising one. A triple top has three well defined peaks at about the same horizontal resistance level with two troughs and two lows, giving it the appearance of a "triple top". While a head and shoulders pattern has two well defined smaller peaks on each side of a well defined high middle peak and two troughs or two lows, which gives it the appearance of a "head and shoulders". If you add up the three attempts to continue the trend, and the two troughs, you get what is called a five point reversal pattern.
The trend in GDX since 2009 was up until this current pattern I have drawn on the weekly chart below.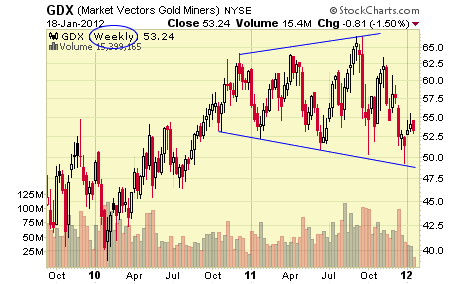 In traditional technical analysis the broadening top formation has extreme bearish implications. This is a pattern that was known to form on many stocks in 1929. In theory the broadening top signals the move has gone too far and is entering a dangerous phase of out of control speculation from the public.
How many people do you know that can name three mining stocks? How many people do you know that can name three technology companies? I don't see the miners as being household names just yet, so this theory doesn't quite sit well with me.
I also have not found broadening top formations to be as reliable as a triple top or an H&S pattern in my experience. What these diverging trendlines signal to me is a market that has no conviction which way it wants to go right now and that is all. I believe this is a very large balance area that should be building a strong breakout one way or the other. So it can be either a reversal or a continuation pattern in my book.
We shall see? Call or Put Options are a great way to speculate here with this type of volatile pattern. You can define your risk by investing only the amount you can afford to lose in the premium of the option. Position sizing and money management are critical with options. Should the move explode in your favor, you have the right to have the shares assigned to you.
In full disclosure I am long GDX call leaps to January 2013 at strike prices of $30 and $40. I am completely comfortable with that reward to risk ratio, the time horizon, and the investment objective.
Related: SPDR Gold ETF (NYSEARCA:GLD),  Market Vectors Gold Miners ETF (NYSEARCA:GDX), Market Vectors Junior Gold Miners ETF (NYSEARCA:GDXJ), iShares COMEX Gold Trust (NYSEARCA:IAU), Goldcorp Inc. (NYSE:GG), Barrick Gold Corporation (NYSE:ABX), Yamana Gold, Inc. (NYSE:AUY).
Written By Scott Pluschau From ETF Digest
Scott was a financial advisor with Citi. His technical analysis  report was recently featured by Dr. Marc Faber on the Nasdaq Composite  Index in his June 1, 2011 Gloom Boom & Doom report. Scott earned his  degree in Accounting and Taxation from Pace University. He lives in  Long Island with his wife Ilona, daughter Olivia and new baby Henry.
ETF Digest writes a subscription newsletter focused on technical analysis of exchange-traded funds.  ETF Digest was founded in 2001 and was among the very first to see the  need for a publication that provided  individual investors with  information and advice on ETF investing.   Even if you're not a fan of chart analysis, ETF Digest provides insight  and commentary into which global markets are "working" and why.