the breadth of a common index, but with weighting criteria that may differ substantially from "the norm." Many enhanced ETF issuers, such as First Trust and PowerShares, apply quantitative analysis to determine how they should balance an index's constituents. They may take under consideration price-to-book, dividend growth, price-to-earnings, and any number of other variables in their calculations.
A "normal" index such as the S&P 500, for example, is used to indicate the aggregate strength of the 500 large-cap companies that are listed on it. These companies are then in turn weighted by their market capitalization. The SPDR S&P 500 ETF (NYSEArca:SPY), which follows and tracks this index, is weighted accordingly.
First Trust, though, has a series of what it calls AlphaDEX ETFs, which follow specialized indices. They cover everything from individual countries, to market sectors, to investment styles, but the way the indices are weighted is decidedly more complicated.
Take the First Trust Energy AlphaDEX Fund (NYSEArca:FXN), for example. Its investment objective is to track the StrataQuant Energy Index (STRQEN), which is sponsored and maintained by NYSE Euronext. STRQEN begins with the Russell 1000, and uses a series of criteria, including "three, six and 12-month price appreciation, sales to price and one year sales growth, and, separately, on value factors including book value to price, cash flow to price and return on assets" to begin the complex weighting process, which has an additional four or five steps. With all of that maneuvering involved, perhaps its high expense ratio should be no surprise: 0.70%.
In the last six months, FXN (green) has underperformed the Russell 1000 Energy Index (orange), but it outperformed the index for much of 2011.
PowerShares also deals extensively in enhanced index ETFs such as its PowerShares Dynamic Market Portfolio (NYSEArca:PWC). PWC's investment objective is to track the Dynamic Market Intellidex (DYI). DYI in turn attempts to select U.S. companies "with superior risk-return profiles." According to AMEX, DYI is "composed of stocks selected quarterly based on a proprietary quantitative method." What exactly this "proprietary quantitative method" actually consists of they leave to our imagination, although PWC's fact sheet states that the index (DYI) factors in "fundamental growth, stock valuation, investment timeliness, and risk factors." PWC also has a relatively high expense ratio of 0.60%.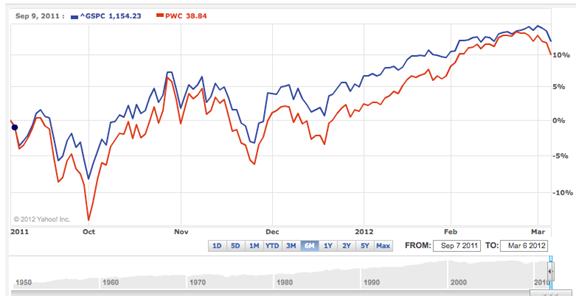 PWC (red) tracks the relatively opaque Dynamic Market Intellidex (DYI). It has consistently underperformed the S&P 500 (blue) over the last 6 months.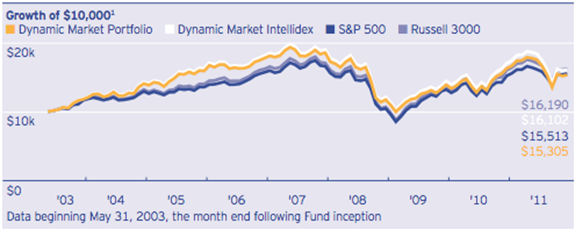 Over the long term, it does appear that PWC has outperformed the market on several occasions.
Written By David Fry From ETF Digest
David is founder and publisher of ETF Digest and best selling book author of Create Your Own ETF Hedge Fund, A DIY Strategy for Private Wealth Management published by Wiley Finance in 2008.  In July of  2009, Fry was named in the ETF Hall of Fame as one of the Top 25  people who revolutionized the ETF industry and guided ETF investing from its conception to widespread acceptance among all breeds of investors. Fry founded the ETF Digest in 2001 and was among the very first to see the need for an online publication that provided  individual investors and financial professionals with trading tools, market information and actionable advice on ETF investing. ETF  Digest was recently ranked 9th in the Top 100 ETF websites from Alexa on exchange traded funds. Dave Fry has devoted over 35 years to the business of trading and  portfolio management. He is registered as an  arbitrator with the  Financial Industry Regulatory Authority (FINRA)  and the National Futures Association (NFA).