The New York spot price for an ounce of silver plunged to $20.45 a little after noon EDT, a 2.2% drop from the previous day's close of $20.90.
One of the likely culprits was positive economic news out of the Eurozone, with the release of the Markit Flash Purchasing Manager's Index, which tracks business activity based on output, new orders, employment, and prices across sectors. It indicated that there were better growth prospects for a region that has, for a while, been grappling with economic tumult.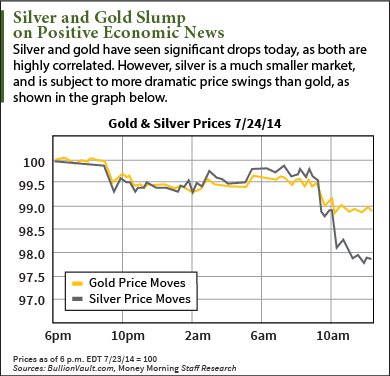 "Business activity picked up again in July to suggest that the economy is growing at one of the strongest rates we have seen in the past three years," said Chris Williamson, chief economist at Markit.
While this may be encouraging for the Eurozone, it only works to diminish investors' immediate needs for safe-haven assets, like silver. Precious metals tend to get a lot of attention from investors in times of panic, as they look for a vehicle to hedge against weakening currencies. The European credit crisis has been a big driver of silver investmentsince it started.
"Like other precious metals, silver will continue to benefit from concerns about European sovereign credit quality," Alex Bryan, an analyst at Morningstar wrote. "However, as conditions in Europe improve, investment demand for silver may contract."
More Factors Pushing Down Silver Prices
There are also encouraging developments in the U.S. job market. The U.S. Labor Department this morning released data showing that in the week ending July 19, weekly jobless claims fell to 284,000, a decrease of 19,000 and the lowest level of unemployment insurance claims since February 2006. Precious metals took cues from this positive labor market development and fell accordingly.
Another factor pushing down the price of silver was the cooling off from a six-week rally.
After bottoming out at sub-$19 lows at the beginning of June, silver rallied more than 14% to three-month highs. Many investors are simply looking to take some gains on this surge as silver trading moves into the summer doldrums.
"I have to say that I do think this is simply the market's healthy process of profit taking," said Money Morning Resource Specialist Peter Krauth. "It had a good run lately."
Finally, it also may be that the period of weak summer trading that has historically characterized this time of the year is settling in. This season tends to hit silver prices from both ends of the demand spectrum.
"Investment demand and fabrication demand have strong seasonality," Jeffrey Christian, managing partner at CPM Group told Money Morning. "You tend to see the weakest period of demand for silver in July and August both from investors and industrial users."
Trading volume for silver is down 42% so far this week compared to last week.
"Summer is kind of steady to trending weaker just because people aren't paying attention," Checkan said.
Investment Demand Driving Silver Prices
Silver's price is determined by both demand from investors and industrial users, as the white metal is a great heat conductor and very resistant to corrosion. It is a component of jewelry production, and can be found in electrical circuits and wiring, electronic screens, and photographic film.
But as Morningstar's Bryan noted, since 2008, "nearly all of the increase in demand for silver has come from investors."
According to The Silver Institute's 2014 World Silver Survey, fabrication demand has been down for three straight years. With flagging industrial demand, silver prices are becoming more sensitive to investment whims.
"If investors lose interest, silver prices could fall with little warning," Bryan wrote.
Gold is down on the day too, below the important $1,300-an-ounce benchmark to $1,290.10 for a 1.1% drop on the day. Silver tends to attract like-minded investors and will often get residual investment interest. However, its movements are generally more exaggerated because silver has a smaller footprint in the precious metals complex.
"The silver market is tiny compared to the gold market," Richard Checkan, president and chief operating officer of Asset Strategies International told Money Morning. "It's like throwing a rock into a lake versus a puddle, the relative splash is much bigger in the puddle."
That's why silver is down twice as much as gold on the day.
Written By Jim Bach From Money Morning
We're in the midst of the greatest investing boom in almost 60 years. And rest assured – this boom is not about to end anytime soon. You see, the flattening of the world continues to spawn new markets worth trillions of dollars; new customers that measure in the billions; an insatiable global demand for basic resources that's growing exponentially; and a technological revolution even in the most distant markets on the planet.And Money Morning is here to help investors profit handsomely on this seismic shift in the global economy. In fact, we believe this is where the only real fortunes will be made in the months and years to come.