According to Money Morning's Global Energy Strategist Dr. Kent Moors, these actions will spell the end of the 12-nation oil cartel. You see, OPEC is fighting a battle it simply can't win.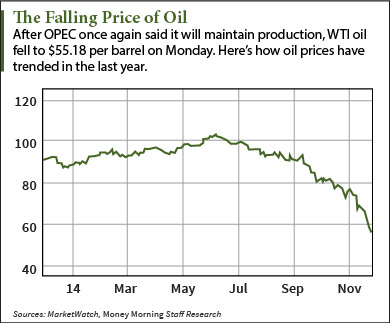 Following today's news, crude oil prices plummeted again. WTI oil for January delivery fell to $55.18 a barrel for January delivery today. That's a 46.2% drop in the last six months, and a 10% drop from last week.
Brent crude traded near $60 per barrel. That's down from more than $110 in June.
It was just the latest OPEC news story to sendoil prices tanking. After last month's meeting in Vienna, Austria, the cartel initially announced it would maintain its high level of production. Brent oil fell 6.2% immediately afterward.
Last week, the cartel received another blow when a Bank of America Corp. (NYSE: BAC) report stated that the oil cartel "no longer exists in any meaningful sense." The Dec. 9 statement claimed that OPEC had effectively dissolved after failing to prevent low oil prices.
But once again, Moors was ahead of Wall Street. He spent the early part of December meeting with the world's top oil policymakers in Dubai, and had an inside look at OPEC's strategy.
On Dec. 5 he told his readers that the cartel's days were numbered.
Since then, WTI crude oil has fallen another $10 and the cartel's outlook is even bleaker.
Here are the three reasons why OPEC will collapse, according to Moors…
The Three Reasons OPEC Will Dissolve
The first major reason OPEC will collapse is the dissention among its 12 nations. Saudi Arabia is the largest member of the cartel, and the main proponent for high production.
The Saudis refuse to lose market share globally and are willing to let prices fall. While the Saudi economy relies heavily on oil exports, the country is sitting on an enormous cash hoard. Its $750 billion in cash reserves ranks third globally. Therefore, it can weather low oil prices.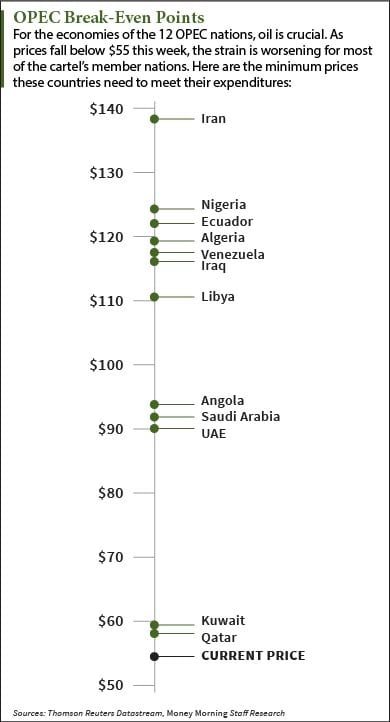 Other OPEC nations are not as lucky. In fact, Venezuela, Nigeria, and Iran have been pushing for production cuts. The governments of these countries need the price of oil over $110 in order to pay expenditures. According to Moors, that has forced these three countries to sell higher levels of oil at lower prices, thus perpetuating the global supply glut.
The second reason for an OPEC collapse deals with the cartel's battle with Russia over Asia.
"Asia is now rapidly becoming the biggest target for oil (and other energy) exports worldwide," Moors said. "That trend will be increasing in an uninterrupted curve through at least 2035. Saudi oil exports have been dominant in the region, with Asia regularly paying a 'premium' above rates for the same Saudi oil delivered elsewhere in the world."
But the Russians have moved in with a new pipeline that moves crude to Asia. While the drop in oil prices is detrimental to Russia as well, the country can withstand low prices for now.
"Russia also has ample reserves, and recently allowed the ruble to float," Moors said. "Yet MinFin (the Russian Ministry of Finance) does acknowledge that the country will fall back into recession as early as the first quarter of next year."
The final reason is the United States' staggering amount of tight shale oil production. Right now, the Saudis think they're pressuring U.S. producers to limit production. But that's simply not the case.
"Keeping prices low only has an indirect effect on global oil prices," Moors said. "OPEC can only impact the American market by what it exports there, and only in that way does it have any effect on world pricing.
"There is a straightforward reason for this. U.S. producers are still prohibited from exporting most types of crude. Unfortunately for the Saudis, that is about to change, creating very direct consequences on broader pricing from U.S. production.
"There are now plenty of excess recoverable reserves in the United States. So exporting would have no effect on already declining prices in the domestic market. That removes the primary political objection to U.S. exports."
And exporting oil would be a major stimulus for the United States for the foreseeable future.
"So as we head into 2015, OPEC has revealed its cards and they aren't playing a winning hand," Moors said.
Written By Kyle Anderson From Money Morning
We're in the midst of the greatest investing boom in almost 60 years. And rest assured – this boom is not about to end anytime soon. You see, the flattening of the world continues to spawn new markets worth trillions of dollars;new customers that measure in the billions; an insatiable global demand for basic resources that's growing exponentially; and a technological revolution even in the most distant markets on the planet. And Money Morning is here to help investors profit handsomely on this seismic shift in the global economy. In fact, we believe this is where the only real fortunes will be made in the months and years to come.