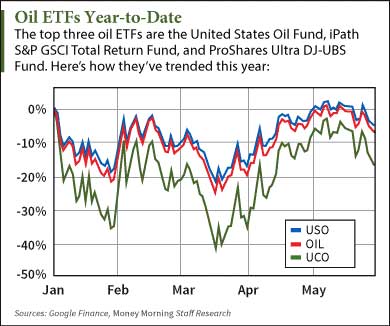 WTI oil prices are up 23.2% since they bottomed at $49.65 on March 17. They are still down 37% since June 23, 2014. The S&P 500energy sector has plummeted 23.5% over the same period.
Many oil ETFs are still down more than WTI oil. The United States Oil Fund LP (NYSE Arca: USO), which saw more than $2 billion in investments last year, has fallen 48.5% since last June. The ProShares Ultra DJ-UBS Crude OilFund (NYSE Arca: UCO) is down 46.6% over the same period.
Investors are starting to show interest in crude oil index ETFs again as prices have been rising. The Wall Street Journal reported nearly $6 billion was poured into this type of oil ETFin the first quarter alone.
Now is a good time to bet on higher oil prices. Oil is up 7.5% this year and expected to keep climbing. But USO and UCO are not the best oil ETFs to profit from the rebound.
In fact, crude oil index ETFs have one major problem right now that many investors aren't aware of…
Why These Popular Funds Are Not the Best Oil ETFs to Buy Now
Thanks to a problem known as "contango," crude oil index ETFs miss out on profits during low oil price periods.
Contango is a situation in which futures prices are higher than the spot price of oil.
You see, many oil ETFs like USO and UCO track futures contracts instead of the spot price. When there's a gap between the price of the expiring futures contract and the new futures contract, the ETF is forced to buy contracts at the higher price. In other words, the fund is always buying high and selling low.
What Is Contango?
Contango refers to the situation when the oil futures contract trades at a higher price than the spot price of oil.
During periods of contango, people are willing to pay more for a commodity in the future than the actual expected price of the commodity. This can occur when people are willing to pay a premium for a commodity's future delivery, rather than paying for the storage of the commodity.
This can be a problem for ETFs that track the price of oil using oil futures contracts.
When there's a price gap between the price of the expiring contract and the new futures contract, the fund is consistently buying contracts at a higher price. Essentially, it's constantly buying high and selling low on the futures contracts.
For instance, if a new contract is $4 higher than the expiring one, investors will encounter what is called a "negative roll yield" of $4. That's because the fund is buying high and selling low to track the oil price month to month.
Contango only happens during periods of unusually low prices and high production.
The last time this happened to the oil market was the "supercontango" of the 2008 financial crisis. Back then, oil tanker ships stockpiled millions of barrels off the coasts of major production areas like the Gulf of Mexico and England. The gap between the WTI oil spot price and futures price 12 months later was more than $23 a barrel.
These oil index funds aren't healthy investments now because any spread between the spot price and futures price can cause them to miss profits.
Instead, the best oil ETFs to invest in now focus on the midstream sector. These funds hold companies that make money from owning pipelines, storage facilities, and other infrastructure.
Here's our top pick, which has surged more than 2% over the last two weeks…
The Best Oil ETF to Invest in Today
The best oil ETF profit play is the First Trust North American Energy Infrastructure Fund(NYSE Arca: EMLP). First Trust holds 69 stocks, representing a wide range of American and Canadian energy companies.
Most of EMLP's holdings are midstream master limited partnerships (MLPs). These companies aren't as exposed to low oil prices because they derive at least 50% of their revenue from storage and transportation infrastructure. These "marketproof" holdings are like tollbooth collectors at a bridge, collecting fees as long as oil keeps flowing.
"When you invest in the midstream, you're far less susceptible to price fluctuations in the underlying commodity, and you are able to collect easy profits from the growing demand in fuels," Money Morning Global Energy Strategist Dr. Kent Moors explained.
First Trust has $1.2 billion in net assets and became the first oil ETF to hit the $1 billion asset mark. Morningstar Inc. (Nasdaq: MORN) rated it the best "equity energy" ETF last year after it saw a one-year total return of 23.8%.
Not to mention it's reaping benefits from the largest MLP merger of the year…
Energy Transfer Partners LP (NYSE: ETP), one of EMLP's largest holdings, acquired Regency Energy Partners (NYSE: RGP) on April 30. The $18 billion deal made Energy Transfer Partners the second-largest MLP on the market.
Despite being down 6% this year, EMLP has gained 2.1% since June 12. That means it's in the early stage of a strong rebound as oil prices near the $70 range by the end of 2015.
"Absent any major geopolitical tension, beyond the levels we're already seeing, oil prices should begin to level off," Moors noted. "Oil won't have to hit triple digits to hand us some fantastic new opportunities."
The Bottom Line: Most oil index ETFs like USO and UCO have fallen hard in the last year. These are not the best oil ETFs due to the market's ongoing state of contango. The most profitable oil funds focus on "marketproof" midstream companies that make money no matter what the market does. With a diverse collection of midstream holdings, the First Trust North American Energy Infrastructure Fund is the best oil ETF to buy now.
Written By Alex McGuire From Money Morning
We're in the midst of the greatest investing boom in almost 60 years. And rest assured – this boom is not about to end anytime soon. You see, the flattening of the world continues to spawn new markets worth trillions of dollars; new customers that measure in the billions; an insatiable global demand for basic resources that's growing exponentially; and a technological revolution even in the most distant markets on the planet.And Money Morning is here to help investors profit handsomely on this seismic shift in the global economy. In fact, we believe this is where the only real fortunes will be made in the months and years to come.