"Apple, even in a bear market – it may get hurt, it may go down – but I think Apple is still ridiculously underpriced," Icahn said in a CNBC interview Wednesday.
Icahn owns more than 53 million shares of Apple Inc. (NASDAQ:AAPL) and has on several occasions urged CEO Tim Cook to enhance shareholder value by increasing the dividend and buying back shares.
But Icahn's relationship with Apple stands out as unusual for an activist investor.
For the past year, Icahn has spent more time praising Apple and making wildly optimistic predictions (he said the AAPL stock price should be $203).
Typically, activist investors agitate for changes in corporate strategy.
Icahn followed that same playbook when speaking to CNBC this week.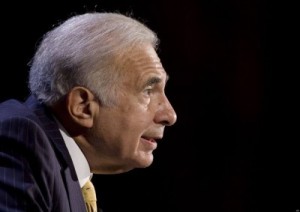 Why Icahn Wants to Buy Even More AAPL Stock
"They are still misunderstood by most of Wall Street.
They say it's manufacturing. It's not. It's a great ecosystem," Icahn said.
And he admitted to being tempted by the current AAPL stock price of about $110.
"I am very seriously considering buying a lot more of it," Icahn said. "I would be buying much more if I weren't really concerned about the market."
Just days earlier, Icahn put out a video entitled "Danger Ahead: A Message from Carl Icahn" in which he discusses his concerns about the markets and the possibility of another financial catastrophe as bad as or even worse than the 2008 financial crisis.
It's possible Icahn is waiting for the markets to go south in a major way before scooping up more shares of companies he likes, such as Apple stock.
While it's always difficult to ferret out Icahn's real motives, with AAPL stock, he's mostly on target. Here's why…
Why Carl Icahn Is Right About the Apple Stock Price
Money Morning Chief Investment Strategist Keith Fitz-Gerald put a $200 a share target on Apple stock back in April.
"Apple has a long history of creating devices that fill needs people don't even understand they have… then turning them into industry standards," Fitz-Gerald said. He believes the company's focus on expanding its already powerful ecosystem into new areas is the key to future growth.
"I'm thinking here about things like Apple Pay, Apple-powered cars, TVs, even buildings, artificial intelligence, and form factors that haven't been invented yet but which you can bet are already on Apple's drawing board," Fitz-Gerald said.
He thinks the company will grow both revenue and earnings by a healthy 25% to 30% a year for the next five to 10 years.
And, like Carl Icahn, Fitz-Gerald sees the pullback in the Apple stock price as a buying opportunity.
"Stocks like Apple rarely, if ever, take a break like this," Fitz-Gerald said. "That means you've got one whale of an opportunity on your hands, and a unique chance to buy in when everybody is running the other way."
Written By David Zeiler From Money Morning
We're in the midst of the greatest investing boom in almost 60  years.  And rest assured – this boom is not about to end anytime soon.  You see, the flattening of the world continues to spawn new markets  worth trillions of dollars new customers that measure in the billions;  an insatiable global demand for basic resources that's growing   exponentially; and a technological revolution even in the most distant  markets on the planet.  And Money Morning is here to help investors profit handsomely on this seismic shift in the global economy. In fact,  we believe this is where the only real fortunes will be made in the  months and years to come.