Even though it sells smartphones, tablets, and the Xbox One game system, only about 10% of MSFT's profits come from hardware.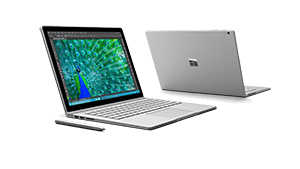 But all of those things are tied together by Windows 10, the latest version of Microsoft's venerable operating system. Microsoft bragged often that 110 million devices are already running Windows 10, just 10 weeks after launch.
The snazzy hardware is part of Microsoft's strategy of rejuvenating the image of Windows as the tired old OS of PC desktops.
"We're making progress towards moving people from needing Windows, to choosing Windows, to loving Windows," said CEO Satya Nadella.
Microsoft Event Highlights Windows 10 as an Ecosystem
Nadella wants consumers to see Windows as an OS just as suited to tablets and phones as it is to desktops and laptops. That's why Microsoft put so much effort into making sure Windows 10 would work the same across all these devices.
The hardware effort is Microsoft proving – and quite convincingly – that Windows 10 mobile hardware can not only be as good as the stuff Apple Inc. (Nasdaq: AAPL) and the Android world makes – it can be cutting-edge.
The emphasis on the ecosystem started with a Microsoft event hashtag the company created: #Windows10devices. MSFT has watched Apple and Google Inc. (or as it's now known, Alphabet Inc. (Nasdaq: GOOGL)) dominate mobile with the iOS and Android ecosystems for seven years now, as it struggled with just a few percentage points of market share.
Windows 10, and the devices unveiled at the Microsoft event today, are the company's best effort yet at changing that dynamic. Microsoft is determined to put the Windows ecosystem back into the mobile conversation.
Investors seem to understand this is a big deal. As details of the Microsoft event leaked out over the past week, Microsoft stock has climbed. Over the past five trading days, MSFT stock is up more than 7%. It was trading today at about $47.
The genius here is that these devices are not only beautifully designed with several innovative features, but are all powerful enough to run Windows as well as a PC.
Here are the highlights from the Microsoft event…
What Was Unveiled at the Microsoft Event
The Surface line-up got the biggest boost.
The Surface Pro 4 got a nice speed boost – Microsoft claims it's 50% faster than a MacBook Air – a slightly bigger screen (12.3 inches from 12 inches), a thinner body, a backlit keyboard, and a new, more useful stylus pen.
The Surface Pro 4 starts at $899 and will launch Oct. 26.
But Microsoft really wowed the crowd with its Surface Book laptop, a first for the company. The elegant design looked like something Apple had produced – or wished it had produced.
The 13.5-inch device functions as regular laptop, but the screen can detach and function as a tablet. The snakelike hinge that attaches the two is a marvel of engineering.
But what impresses the most about the Surface Book is its power. MSFT says it's twice as fast as a MacBook Pro, a claim many tech heads are eager to test. It also has an NVIDIA graphic chip powerful enough to play games like a desktop PC.
It's the ultimate tablet/laptop hybrid, and a wake-up call to Microsoft's hardware partners such as Dell, Lenovo, and Hewlett-Packard Co. (NYSE: HPQ). While not cheap – the Surface Book starts at $1,500 – the machine will almost surely be a hit when it launches Oct. 26.
"There's a lot of engineering behind it and a lot of money," Rich Doherty of Envisioneering told Barron's. He predicted Microsoft and Apple's MacBook line would scoop up the high end of the laptop market. "What's going to be left for HP and others? Selling $300 models, maybe."
The other major announcement at today's Microsoft event was the new Lumia 950 smartphones.
Lumia 950 Phones Rival PCs
It's hard to stand out in the smartphone universe, but Microsoft's new Lumia 950 will raise some eyebrows. Not only does it run Windows 10, but it has the graphics juice to run a separate display. Plug it into a Microsoft display dock along with a keyboard, and it works just like a PC.
Microsoft gave the Lumia some crazy specifications. It has a 20-megapixel camera with a dedicated button and a three-LED flash with image stabilization. With two antennas, the Lumia can pick the strongest signal on the fly as the orientation of the phone changes.
The Lumia also sports a USB-C connector, which means it can get a 50% charge in 30 minutes. And you can upgrade the storage in the Lumia 950 with an SD card – up to a whopping two terabytes when such cards become available.
The 5.2-inch Lumia 950 starts at $549. The 5.7-inch Lumia 950 XL starts at $649. Both launch in November. For budget buyers, a less robust Lumia 550 will join them at just $139.
Microsoft also showed an upgrade to its wearable tech, the Microsoft Band. Sleek and curved, the Band can measure your maximum oxygen volume in addition to heart rate and other typical fitness band functions.
The Microsoft Band will cost $249 with availability starting Oct. 30.
When you recall that the only hardware Microsoft once made was keyboards and mice, today's reveal was pretty amazing.
While this new hardware will boost the Windows ecosystem in the short term, we also may be witnessing a promising source of revenue growth for the company.
Hardware sales won't be the whole answer to Microsoft's need to diversify its business, but can definitely supplement its growing success in the cloud.
And that's not even considering the impact of its HoloLens project, which has huge gaming implications.
The Microsoft event today wasn't just another product show. It was the rebirth of a tech giant. And it makes Microsoft stock a buy right now.
"This is absolutely a long-term play," Money Morning Capital Wave Strategist Shah Gilani said. He expects MSFT stock to reach the $60 to $65 range by the end of 2016.
The Bottom Line: Today's Microsoft Event revealed a range of top-rate hardware products with one thing in common: They all run the same version of Windows 10. After years on the outside looking in as Apple and Google dominated mobile, Microsoft has found a way to make its Windows ecosystem an attractive third option. And judging by its newfound hardware prowess, MSFT just may have found a new source of revenue growth.
Written By David Zeiler From Money Morning
We're in the midst of the greatest investing boom in almost 60  years.  And rest assured – this boom is not about to end anytime soon.  You see, the flattening of the world continues to spawn new markets  worth trillions of dollars new customers that measure in the billions;  an insatiable global demand for basic resources that's growing   exponentially; and a technological revolution even in the most distant  markets on the planet.  And Money Morning is here to help investors profit handsomely on this seismic shift in the global economy. In fact,  we believe this is where the only real fortunes will be made in the  months and years to come.