As of this writing, three positive developments remain in place: (1) the breakout above the multiple-year consolidation box (point A), (2) a retest of the breakout (point B), and (3) a bullish MACD crossover near point C.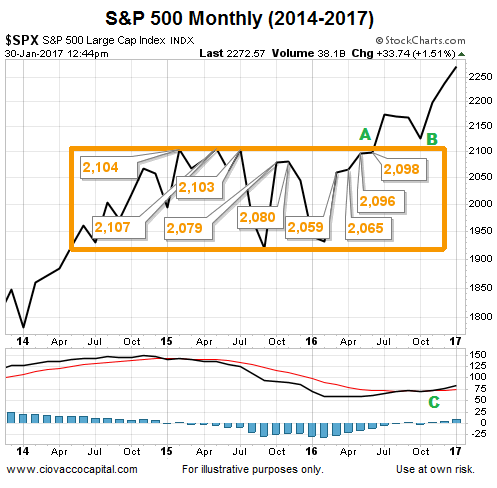 A December 2 analysis provides some historical context (1993-2017) for the bullish monthly MACD cross shown above.
The View From 90,000 Feet
This week's stock market video covers an extremely rare breakout attempt that is being made by the broad NYSE Composite Stock Index and puts the development into some long-term historical context (1965-2017)
After you click play, use the button in the lower-right corner of the video player to view in full-screen mode. Hit Esc to exit full-screen mode.


Trump Moves On Regulatory Reform
As outlined on November 11, reducing regulations could have a positive impact on earnings. Monday, President Trump moved on regulatory reform. From Reuters:
President Donald Trump signed an order on Monday that will seek to dramatically pare back federal regulations by requiring agencies to cut two existing regulations for every new rule introduced. "This will be the biggest such act that our country has ever seen. There will be regulation, there will be control, but it will be normalized control," Trump said as he signed the order in the Oval Office, surrounded by a group of small business owners.
The Vanguard 500 Index Fund (NYSE:VOO) was trading at $208.41 per share on Monday afternoon, down $1.84 (-0.88%). Year-to-date, VOO has gained 1.51%, versus a 1.55% rise in the benchmark S&P 500 index during the same period.
VOO currently has an ETF Daily News SMART Grade of A (Strong Buy), and is ranked #4 of 109 ETFs in the Large Cap Blend ETFs category.
---
This article is brought to you courtesy of Ciovacco Capital.