Chris Ciovacco: Economic data in 2014 has aligned with "slow, but still positive growth." It is easy to find blurbs in the press similar to the June 12 segment from The Wall Street Journal below:
Soft sales at retailers in May suggest U.S. consumer spending remains on a familiar trajectory of modest growth, further blunting hopes for a strong and sustained economic expansion this year.
1992: Growth Was Unimpressive
Those who have been following the markets for some time probably recall that it was easy to find "slow growth" stories in 1992. The excerpt below is from the February 1992 New York Magazine:
"If the economy doesn't quickly snap out of its lethargy and begin to grow respectably, the stock market could get whacked."
1992: What Happened Next?
As shown in the chart of the S&P 500 below, after the "stock market could get whacked" comments were published in New York Magazine, the S&P 500 gained 18% over the next 21 months. Looking out further from the date of publication, the S&P 500 gained 378% between late February 1992 and the spring of 2000.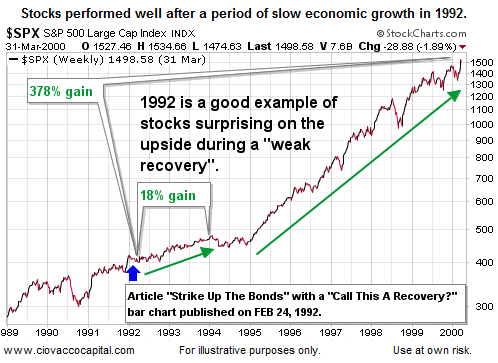 But, We Are Trading Near An All Time High
In 2014, stocks are trading near an all time high, which is often cited as a reason not to invest.