2008: What Did The Evidence Show On January 2?
Are we saying if CCM published a 2008 stock market forecast (we did not) that it would have been more helpful than the ones referenced by USA Today on January 2, 2008? No, we are saying forecasting is difficult for everyone and every firm, including our firm. However, if a reporter called on January 2, 2008 and asked, "What do you think about the outlook for 2008?, we would have said "we are not big fans of forecasting, but the market looks vulnerable right now." The vulnerable comment would have been based on the S&P 500 chart below dated January 2, 2008. The concepts used on the chart below are covered in detail in this 1987 video.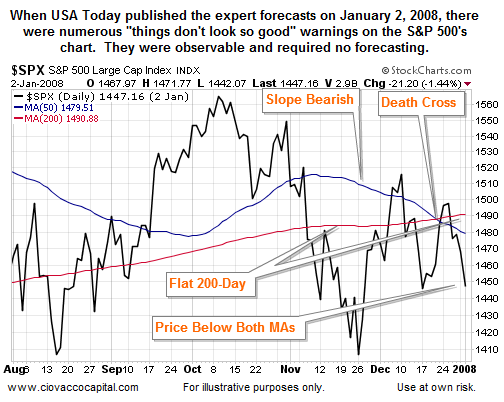 What About Wall Street's Stock Picks In 2008?
You may say, "I don't invest in the S&P 500, instead I rely on Wall Street experts to help me pick individual stocks". How did that strategy work out n 2008? The topic is covered in detail in this week's stock market video.
After you click play, use the button in the lower-right corner of the video player to view in full-screen mode. Hit Esc to exit full-screen mode.


Investment Implications – No Meaningful Change This Week
As we went to press late in Friday's trading session, the S&P 500 was down 7 points for the week, meaning not much had changed over the past week. The chart of the S&P 500 below allows us to classify recent ups and downs as volatility to ignore. Therefore, it remains prudent from a risk-reward perspective to continue to hold U.S. stocks (SPY), leading sectors, including technology (XLK), and a relatively small position in risk-offsetting bonds (TLT).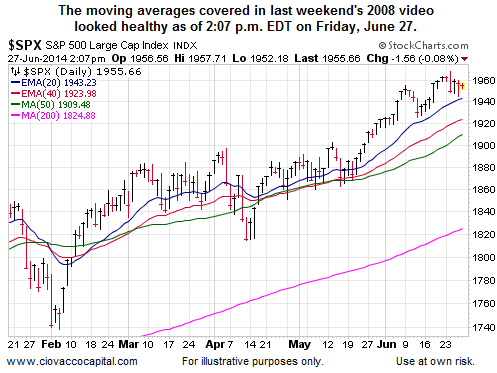 Next week brings a read on manufacturing (ISM) and the latest on the labor market (monthly employment situation). We made no changes to our allocations in the past five sessions. We will learn more next week seeing if the bears convert the recent stall into something more significant.
This article is brought to you courtesy of Chris Ciovacco from Ciovacco Capital.
Want More Great Investing Ideas?