Lawrence Meyers: These stocks are hidden in plain sight and are long term buy and holds.
I've learned more about the auto industry in the past few years than at any other time in my investment history.  The auto industry got clobbered during the financial crisis. However, it also led the way out of it, and segments of the sector didn't get hit as badly as I had thought.
I can always gauge the strength of the economy based on the auto industry, and the anecdotal information I get from several friends who are in ad sales.  Automotive is always the big buyer of ads, particularly in good times.  And right now, times are good.
I also discovered that some of these automotive stocks are also potential buy-and-holds, regardless of the economic environment. I'll get to those shortly, but I want to begin with the auto manufacturer I think has the best business.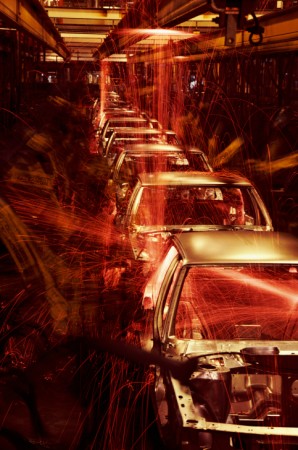 Toyota Motor Corporation (NYSE:TM) has long been known as producing the most reliable cars that also retain their value for the longest period of time.  Last autumn, some dunderhead totaled my 17-year old Camry, which I purchased for about $20,000 in 1997.  I expected the residual value to be $1,500 at best, considering (at best) 5% annual depreciation.  My insurance company paid me $4,500.  I was in shock.
Toyota has the second-strongest brand loyalty of any manufacturer, with 57.8% of customers returning to purchase another Toyota after disposing of one (tied with Mercedes, behind Ford).  The fact that the brand was able to recover after ugly brake recalls (for which they should have hired a better crisis PR firm), is a testament to brand loyalty.
Oh yeah, somehow Toyota managed to accrue $210 billion in cash, short-term, and long-term investments, which offsets its $83 billion in debt.  Its net income has soared coming out of the financial crisis.
Its free cash flow has soared as well.  FY11 saw $9 billion in FCF.  Last year, it hit $26 billion.  Amazing.
With all the cars out there, somebody has to sell them, right?  That's why I like AutoNation Inc. (NYSE:AN), which took the notion of category killer and applied it to cars.  It sells both new and high-margin used cars across domestic, import, and luxury vehicles, and does so in 269 stores across 15 states.
What I particularly like about AutoNation is that it offers a lot of high-margin products.  Repair and maintenance, along with collision, are fantastic businesses to be in.  You can charge people a lot of money for the former, and charge insurance companies a lot for the latter.