David Zeiler: The Utica shale formation hasn't gotten as much attention as some of the others, but that may be about to change as drillers home in on a "sweet spot" in southeastern Ohio that is producing staggering amounts of natural gas.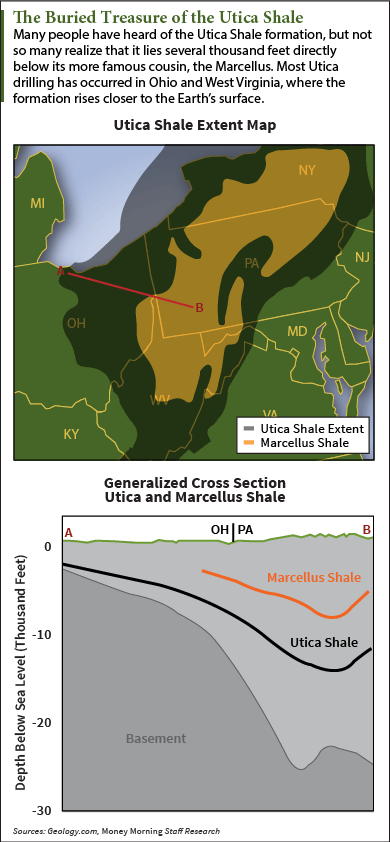 That's big news for investors on the hunt for natural gas stocks, as the companies with prime holdings in the top shale gas and oil formations stand to profit the most from the shale gas and oil boom.
Last year was a major turning point for the Utica.
Wells drilled in that "sweet spot" were the main reason Ohio natural gas production more than doubled from 89.4 billion cubic feet in 2012 to 203 billion cubic feet in 2013, according to the Ohio Oil and Gas Association.
One well alone has produced 1.25 billion cubic feet of gas in 90 days, Larry Wickstrom, the former chief geologist for the Ohio Department of Natural Resources and now in private business, told the Cleveland Plain Dealer.
"Some of these wells are monsters," Wickstrom said.
The sudden increase in Utica natural gas production has turned Ohio from a natural gas importer to a natural gas exporter, with more and more pipelines being reversed. The state is headed toward an export rate of 10 billion cubic feet of gas per day – an amazing reversal from the 10 billion cubic feet Ohio used to import.
It's also touched off a construction boom in natural gas processing plants. In the past few years, 10 new facilities have been built.