Thomas Carreno: I was contemplating a little bit the MACD of the monthly inflation rate chart I posted a few days ago this past weekend and it occurred to me after reflecting on the yearly portion of that chart that we have not really even begun the commodity bull market.  If you look carefully at the yearly MACD of the inflation rate chart in the link above it shows that the raging commodity cycle of the 1970's did not really start until there was a yearly bullish crossover in the MACD of the inflation rate at that time.  We are currently only just beginning a bullish yearly stance in the MACD crossover, likely to happen end of 2011 and into 2012.
The commodity up move in oil and gold so far appears to just have been a preview of what is to come.  The yearly long term MACD inflation rate chart tells me that we are in for 10 to 15 year period of generally rising inflation and sometimes probably spiking higher inflation.  This may not seem like new news, but the long term chart of the MACD of the inflation rate to me is new news and gives me something to sink my teeth into.  But admittedly it is extremely long term.
A comment poster pointed out to me that the DJIA should be viewed in terms of gold to more accurately put into perspective the progress the market has made during the last decade and before that as well.  It is a very good point and well worth repeating and keeping track of.
What has been interesting is that we have seen the DJIA continue to rise while gold has remained relatively flat lately.  The more the DJIA continues to rise, the more it will require the gold price to move that much faster in order for the Dow to Gold ratio to hit the key 5.0 level.  I figure that it will take a move in the gold price to the 2400 to 2600 range to get the ratio near 5 again.  I view the 5.0 range as key channel support and a possible mid point stopping level for the gold bull run.  So it appears we have a race going on and gold is winning hands down.  The gold market is still not far from lifetime highs, and yet the DJIA despite its huge move has not even made it back up the top of the very long term swing trading range yet that began in the year 2000.
If we take a look at the long term US Dollar index chart we see that the US dollar index has essentially been consolidating in a very long (5 to 6 year) sideways trading range in the form of a very large symmetrical triangle.
The decision out of this very large triangle is going to be a very key event and a major signal on future moves in commodities and/or the equity markets.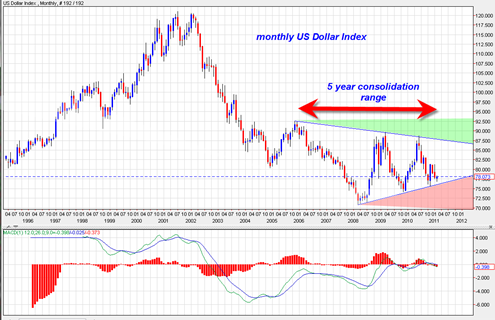 The US dollar index is building massive long term cause.  The previous move from 2001 to 2008 was one of extreme weakness.  We could presume that the follow on move out of this triangle will also be weakness but it is much too early to tell.  This long consolidation could either break out up or down.  We see three touches at the top boundary line and three touches at the bottom boundary line. 
For now my take is that it will eventually break down and through the bottom support of this triangle leading to much higher inflation and sky rocketing gold price.  Indeed, in my opinion a break down out of this triangle will be the beginning of a truly sad state of affairs for the USA. 
The monthly MACD on the US dollar index is currently in bearish mode.
One cannot rule out another move back to the top of the triangle again and we must also keep in mind the mid June 2011 Marty Armstrong cycle date for more clues.
Best Online Trades will be keeping track of the long term US Dollar index chart above and point out when something truly significant happens.
Final conclusion?
Overweighting commodities, commodity ETFS, mining stocks, for the next 10 to 15 years as a hedge against gradually rising and then accelerating inflation.  They will likely be the best long term trade going forward and will probably eventually completely decouple from the dependency on rising 'regular equity markets'.
ETF Daily News Notes Some Related Commodity ETFs: SPDR Gold Shares (NYSE:GLD), iShares Gold Trust (NYSE:IAU), Market Vectors Gold Miners ETF (NYSE:GDX), Market Vectors Junior Gold Miners ETF (NYSE:GDXJ), iShares Silver Trust (NYSE:SLV), ProShares Ultra Silver (NYSE:AGQ), PowerShares DB Agriculture ETF (NYSE:DBA), PowerShares DB Commodity Index Tracking (NYSE:DBC), United States Oil (NYSE:USO), ProShares Ultra DJ-UBS Crude Oil (NYSE:UCO), United States Natural Gas ETF (NYSE:UNG).
Written By Thomas Carreno From Best Online Trades 
I started 
Best Online Trades
because I really enjoy trading and I also enjoy writing about trading.  Writing about trading or trading strategies helps transfer thoughts that would otherwise stay in 'theory' and helps move them to more concrete form for me. And hopefully along the way you will pick up something useful as well. 
BestOnlineTrades
covers many different aspects of trading, from commodities to stocks, from indices to ETF's.