The target area is quite unclear because of the multiple support lines, including the long-term support line seen on the previous chart. It seems that we could see the US Dollar Index in the 78-79 range before the bottom is in.
Again the exact price target is unclear.
Let's check the short-term outlook.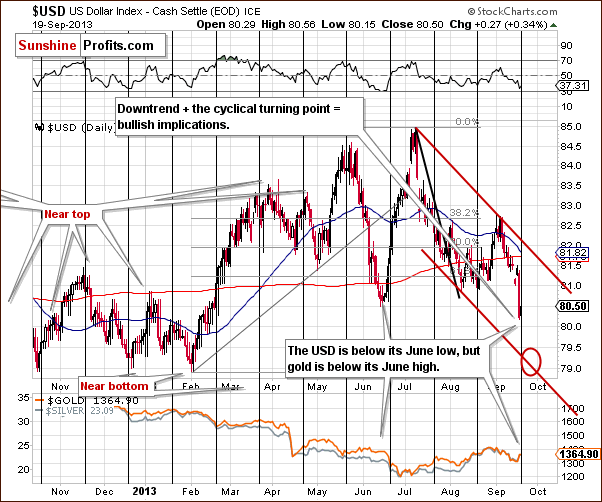 On the short-term chart, we see that the target area is close to the 79 level. The present cyclical turning point makes the situation extreme and difficult to trade as we could see a powerful pullback immediately even if the target area isn't reached.
Additionally, please note that even though the USD Index has declined heavily in September, we also have gold visibly lower than it was at the beginning of the month.
Is another move lower on a very short-term basis likely? It is – based on the True Seasonals pattern that has been working very well in the past few months.
Let's take a closer look at our new tool.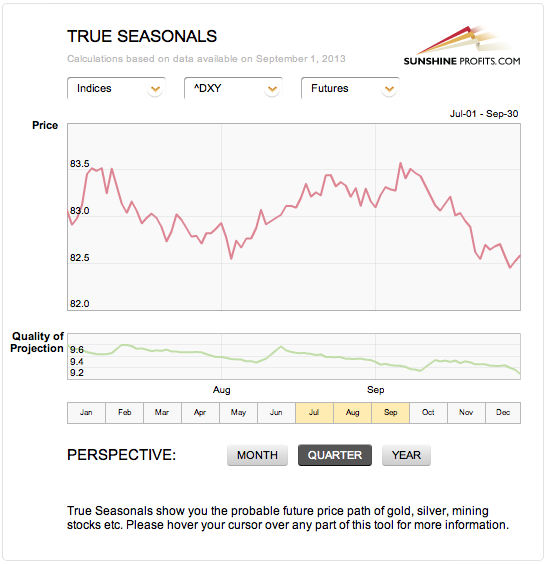 Please note that we saw a visible decline prior to the first part of August after which we saw an upswing which lasted until early September. This has been followed by a significant decline, which is precisely what the True Seasonal patterns were suggesting.
Right now, they are suggesting another small move lower in the final part of this month.
Taking the previously mentioned support levels into account, it seems that the move lower could be more significant, but it will be approximately in tune with the True Seasonals pattern.
Please note that the quality of the prediction (green line in the lower part of the above chart) declines in the final part of the month, which means that a deviation (in the form of a bigger decline) is not unlikely.
Want More Great Investing Ideas?