Consequently, even though the direct impact that the USD Index is likely to have on gold is rather unclear at this time, it seems more likely than not that the impact will be bullish in the very near term (in the next several days).
Once we know the current situation in the U.S currency and the True Seasonal patterns' suggestions on future movements in the dollar, let's find out what happened during the recent days and check the current situation in gold.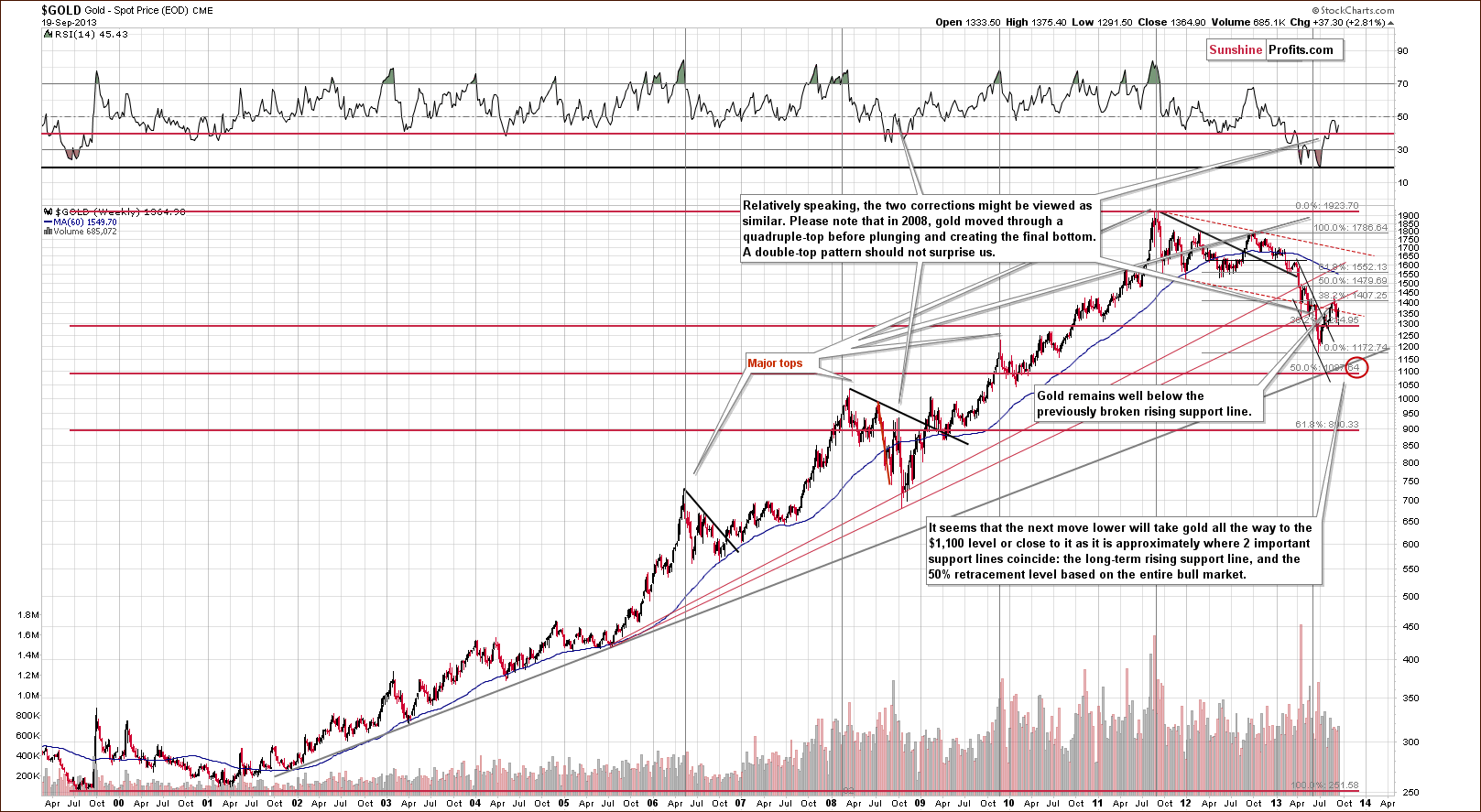 On the long-term gold chart, we see that Wednesday's rally was not as bullish as it seemed at first sight. In spite of the strong daily upward move, which pushed gold above $1,360, the situation hasn't changed much from this perspective.
As you see on the above chart, gold verified the breakdown below the long-term resistance line created by the July 2005 and the October 2008 bottoms (taking intraday bottoms into account). At this point, it's worth noting that there was an invalidation of the breakout above the 38.2% Fibonacci retracement level based on the September 2012 – June 2013 decline earlier this month. This was a bearish sign.
From this point of view, it seems that even if gold increases once again in the coming days and reaches the above-mentioned levels once again, the medium-term outlook will continue to be bearish.
Please note that in 2008, when gold moved higher before plunging for the final time, there were several intra-week attempts to move higher after which gold finally declined. Therefore, a double top pattern should not surprise us here. The same goes for a triple top.
Summing up, on Wednesday, we saw a substantial price move on the gold's and the dollar's charts. However, these moves were significant only on a very short-term basis. Examination of the above charts reveals that they didn't change the long-term and the medium-term tendencies. Despite Wednesday's strength, the downward trend in gold remains in place even though we could see some short-term strength shortly. Taking into account the long-term breakout in the US dollar, the long-term outlook for the USD Index remains bullish, even though we could see additional weakness in the very short term., as indicated i.a. by the True Seasonal charts.
This article is brought to you courtesy of Przemyslaw Radomski from Sunshine Profits.
Want More Great Investing Ideas?