The historic report sent Amazon stocksoaring more than 17%, pushing the company's net worth well past that of the world's largest retailer, Wal-Mart Stores Inc. (NYSE: WMT).
Here are the need-to-know highlights inAmazon earnings for Q2 2015…
Q2 2015 Amazon Earnings Rundown (Nasdaq: AMZN)
Earnings: FactSet analysts projected Amazon to report an earnings per share (EPS) loss of $0.15. Instead, Amazon crushed earnings with a quarterly profit of $0.19 a share.
Revenue: Sales were estimated to come in at $22.4 billion. AMZN again beat analysts there, with revenue coming in at $23.18 billion. That means AMZN's sales are 20% higher than the same quarter a year ago. Since 2014, Amazon revenue has grown more than 13-fold.
Loss: Last quarter, the Seattle-based company reported operating expenses of 15% at $22.46 billion, as it continues to devour nearly all the money it takes in. Expenditures included streaming-video deals, drone program development, warehouse construction, and more. In its Q1 report, Amazon indicated there may be more losses in its future. It projected a range between a loss of $500 million and a gain of $50 million for operating expenses in Q2.
Indeed, Amazon's indications proved truthful. This quarter, operating expenses came in 17% higher than a year earlier at $22.11 billion.
Cloud sales: Amazon broke out financial details of its cloud computing unit, Amazon Web Services, for the first time in Q1, and it was a stunner. The company notched cloud sales of $1.56 billion – a 49% gain year over year. CEO Jeff Bezos says his company's cloud-based service, Amazon Web Services, will likely evolve into a $5 billion business this year alone.
This quarter, cloud didn't disappoint. Sales for Amazon Web Services rose to $1.82 billion, an 81% increase from a year earlier. Operating income in the segment rose to $391 million, more than quadrupling from $77 million. The business accounted for roughly 8% of Amazon's revenue in the quarter.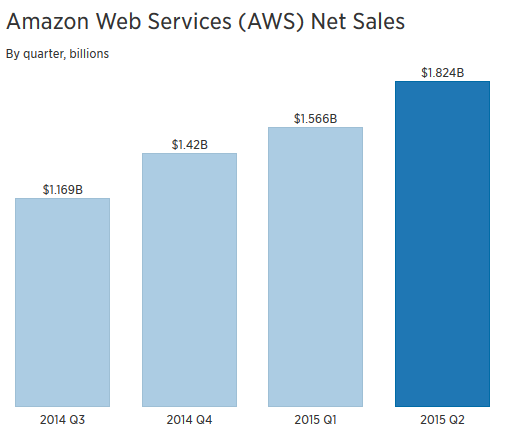 Prime membership: Worldwide, Amazon Prime membership surged 53% in 2014. That strong upward trend has continued, especially after Prime Day on July 15…
The one-day bargain-shopping event required membership as a prerequisite to access the deals. Amazon's third-party U.S. same-store sales for that day were about 80% higher than where they were a year earlier by noon, according to e-commerce sales tracker ChannelAdvisor.
Clothing sales: AMZN's apparel and accessories segment is the driving force behind the company's electronics and general merchandise sales, which makes up roughly 70% of its total revenue, according to Bloomberg. And apparel sales are on the rise – monumentally, according to Cowen & Co. analysts…
The firm released a note on July 20 that predicts AMZN will move pastMacy's Inc. (NYSE: M) as the top apparel seller in the United States by 2017. Only four years ago, Macy's apparel sales were five times that of Amazon's. Cowen estimates that this year, Amazon's apparel business will reach $16.34 billion, compared to $22.2 billion for Macy's. And it predicts the clothing latecomer will sell $27.77 billion worth of apparel in the United States in 2017.
Amazon stock (Nasdaq: AMZN): AMZN stock gained 17% after hours, following its earnings release. That pushed Amazon's valuation to more than $40 billion – well above that of Wal-Mart's. With about 465.68 million shares outstanding, according to FactSet and MarketWatch, the stock's surge would boost Amazon's market capitalization by $37.64 billion to $262.18 billion. In comparison, WMT has a market cap of roughly $233 billion.
AMZN stock has returned more than 1,000% in a decade. MarketWatch notes that if Amazon's stock rally holds, it would make the company the seventh most valuable in the S&P 500, and more than double the value of 11 of the Dow Jones Industrial Average's components.
Q3 predictions: Amazon said it expects net sales of $23.5 billion to $25.5 billion in the third quarter. It projects between a $480 million loss and a $70 million income.
The Bottom Line: If you want to buy Amazon stock, be judicious about your timing.
"AMZN stock has run up 12% roughly in just the last few sessions. My concern for investors trying to get in for the first time is they may be overpaying," Money Morning Defense & Tech Specialist Michael A. Robinson said July 23. "Since the beginning of the year, shares have run up and corrected, repeatedly. For instance, between April 24 the stock ramped up on heavy volume, then July 8, it declined 3.5% – that would have been the time to move in."
Robinson suggested new investors stick to "buying on the dips." He added that he believes "Amazon is the best e-commerce firm on the earth – by a longshot."
Written By Tara Clarke From Money Morning
We're in the midst of the greatest investing boom in almost 60 years. And rest assured – this boom is not about to end anytime soon. You see, the flattening of the world continues to spawn new markets worth trillions of dollars; new customers that measure in the billions; an insatiable global demand for basic resources that's growing exponentially; and a technological revolution even in the most distant markets on the planet. And MoneyMorning is here to help investors profit handsomely on this seismic shift in the global economy. In fact, we believe this is where the only real fortunes will be made in the months and years to come.