This fund is liquid, meaning that anyone can easily buy shares at or near the prevailing ask price. With average volume of nearly 2 million units traded daily, you won't ever have a problem buying or selling a large block of shares. This type of liquidity can be a problem for some stocks and ETFs. More on liquidity issues in a minute…
On August 6, 2010, I recommended this ETF to readers of Global Commodity Investing, a research service I help write and edit.
Since then it's returned a respectable 26%, which is about twice as good as the return you would have received from just buying a broad market index fund like the SPDR S&P 500 ETF (NYSE:SPY).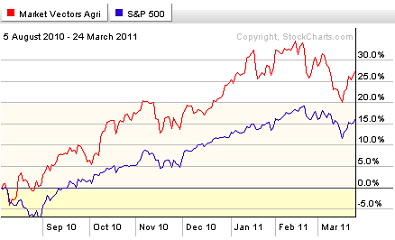 You can read more about this fund and some of my other favorite commodity ETFs by clicking here. The other two funds I recommended on August 6th are performing better than MOO…
Resource Prospector reader and paid Global Commodity Investing subscriber Don H. recently wrote in to ask about another agriculture-based ETF.
Don asks:
"What's your opinion on the IQ Global Agribusiness Small Cap ETF (NYSE:CROP)?"
It's a good question, and it raises some key points about investing in commodities, as well as investing in ETFs.
The first thing you should do is to actually look at the fund's prospectus, its holdings and what its actual goals might be. It probably seems like an obvious step, but there are some ETFs that don't appear to have any kind of goal that might actually give you any return on investment.
The United States Natural Gas Fund (NYSE:UNG), for instance, doesn't appear to be designed to give any return on investment, unless you're shorting it. In the past 18 months, natural gas prices are up about 50%, while UNG is down about 40% over the same period.
So it's important to read up on what the fund's actual goals are before you plunk down your investment capital.
According to the IQ Global index website, CROP "seeks investment results that correspond, before fees and expenses, to the price and yield performance of the IQ Global Agribusiness Small Cap Index. The Index provides important exposure to global small cap companies engaged in the agribusiness sector, including crop production and farming, livestock operations, agricultural supplies & logistics, agricultural machinery, agricultural chemicals, and biofuels."
That sounds nice. But what's actually in the IQ Global Agribusiness Small Cap Index? To the right, I've posted a table of most of the ho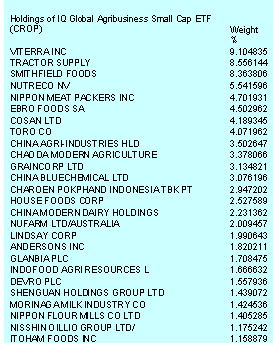 ldings in this fund. The list goes on, but I've only included holdings of greater than 1%.
A quick scan tells you that Chinese stocks make up a large component of this ETF.
That's not necessarily a bad thing, but you wouldn't ever know it from looking at the title alone.
It says global, which for me would probably mean a diversified group of holdings, not a few American stocks combined in with dozens of Chinese companies.
So…that's something of a red-flag. If you want global diversification, you won't get it with this fund.
It is a very new fund as well. It just launched on March 22 of this year.
So there are a lot of unknowns. And as I mentioned earlier, you have to look at the liquidity. Right now, there's essentially no volume on this ETF. That means you'll probably have difficulty in buying and selling shares.
The expense ratio of 0.75% isn't terrible for an ETF, but it's not great either.
If Don or anyone else is still interested in this fund, then I'd recommend digging into the top 10 holdings, looking at their balance sheets, making sure they have potential upside exposure to higher agriculture prices.
Chinese companies are somewhat notoriously difficult to get accurate information about, and some have been accused of running several different books – some for Chinese investors, some for American investors, some for internal operations – and that's a red flag.
So you need to do your homework on this ETF. Or you could just buy MOO, which is comprised of mostly blue-chip American firms with long histories of transparent financials, and clear upsides for higher ag prices.
Written By Kevin McElroy From Wyatt Research
Kevin McElroy is a top rated commodity researcher and analyst specialist at Wyatt Investment Research, with a targeted focus on short and long term investment opportunities.  He has worked in the investment publishing field for over three years alongside some of the world's leading commodity traders and analysts.  He takes the complex futures and options trading strategies from the floors of the Nymex and the CBOT, uniquely combines them with economic trends and positions his recommendations in a way that any investor, from a straight long-term buy and hold investor to a sophisticated day trader can easily understand, implement, and profit.   
Kevin constantly finds unique ways to profit from the "real stuff" like oil, gold, iron, corn – the energy, money, goods and food that the world constantly needs more of.  Kevin is the daily editor to Resource Prospector and a contributor to Energy World Profits and Global Commodity Investing.