David Zeiler:  Apple Inc. (NASDAQ:AAPL) stock doesn't do well in the periods directly before the launch of a new model of iPhone – a period we're in right now – but usually rises in the days and months afterward.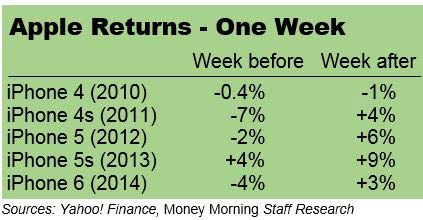 If the pattern holds again this year, now is when you want to buy AAPL stock.
Apple Inc. (NASDAQ:AAPL) is expected to launch the iPhone 6s (or possibly iPhone 7) at an event at San Francisco's Bill Graham Civic Auditorium on Wednesday, Sept. 9, a week from tomorrow.
Despite a torrent of rumors in the weeks leading up to any iPhone launch, investors usually take a wait-and-see approach with Apple stock.
The AAPL stock price has fallen in the week prior to the new iPhone launch in four out of the five previous years.
But investors must have liked what they saw. In all but one year, 2010, Apple stock was higher one week after the new iPhone launch.
Several increases were surprisingly high for a single week, such as the 6% pop in 2012 and the 9% rise in 2013.
Maximizing Profits from Apple Stock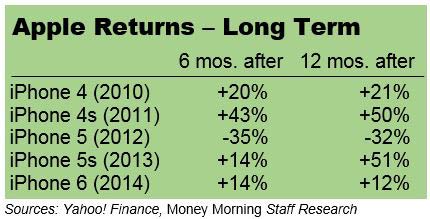 And given how the iPhone has fattened Apple's profits, it's not surprising that the long-term returns are also mostly in positive territory.