Apple Pay has people taking mobile payments seriously.
"Apple Pay will forever change the way all of us buy things," Apple Chief Executive Officer Tim Cook said as he introduced the feature last month.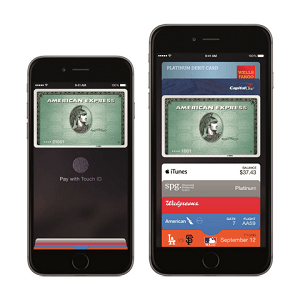 Now, that won't happen overnight. And Apple Pay won't be alone. But make no mistake: The transition to mobile payments has begun.
Mobile payment transactions in the United States alone totaled $1.59 billion last year. They will more than double in 2014 to $3.5 billion, according to research firm eMarketer. They'll more than double again in 2015 to $8.95 billion.
By 2018, eMarketer projects that U.S. consumers will make $118 billion in mobile payments.
Numbers like that are attracting a lot of powerful companies to fight over the spoils. Big profits await the winners.
This war matters to investors, too. Picking a winner will mean big gains. Picking a loser means missing out. The sooner investors sort out who's who, the sooner they can start profiting from mobile payments themselves.
We've already analyzed this trend and, even this early in the war, have spotted several winners and losers.
Let's get started.
The Mobile Payments War Is Here
The mobile payments shift will be complicated by bones of contention: fees and data.
Credit card companies and the banks that issue those cards make billions on usage fees. They want to find a way to keep that money coming as consumers shift to mobile payments.
Retailers don't want the fees. Retailers, along with certain big tech companies like Google Inc. (Nasdaq: GOOG,GOOGL), want a mobile payments system that collects extensive data on shoppers.
Looking at these factors – even though it's early in the game – some winners and losers are already apparent. Here are the main mobile payments losers:
Mobile Payments Loser No. 1: CurrentC. CurrentC is a mobile payments alternative backed by a group of major retailers. Members include heavy hitters like Wal-Mart Stores Inc. (NYSE: WMT), Target Corp. (NYSE: TGT), CVS Health Corp. (NYSE: CVS), and Best Buy Co. Inc. (NYSE: BBY).
Set to launch in 2015, CurrentC is a move by the retailers to bypass the credit cards and their fees.
Since Apple Pay went live Oct. 20, several of these retailers have refused to accept Apple Pay, even though many have the NFC-enabled terminals to do so. That's because the CurrentC group requires members to shun any competing mobile payments technology. The retailers also don't like Apple Pay because it incorporates credit cards and collects no customer data.
But CurrentC is doomed, no matter what Apple Pay does.
The system requires customers to surrender their Social Security numbers, bank account information, and driver's license numbers. CurrentC will also collect a lot of customer data, including health data.
Oh, and much of that data will be stored in the cloud. Yikes.
If that's not enough to send people running in the opposite direction, CurrentC will also be harder to use than Apple Pay.
Customers will need to: 1) unlock their phone; 2) open the CurrentC app; and 3) steady their phone to scan a QR code.
With Apple Pay, you simply whip out your iPhone and press the Touch ID button.
"For these reasons, we predict CurrentC is going to be dead on arrival. It's worse than using a credit card, and it's creepy," writes Business Insider Tech Editor Jay Yarrow.
Here's how this will play out: As consumers ignore CurrentC and iPhone owners demand the stubborn retailers offer Apple Pay, one or more CurrentC members will break ranks. After one of them cracks and takes Apple Pay (and most likely an Android-based alternative as well), the others will quickly follow.
Mobile Payments Loser No. 2: POS Terminal Manufacturers. Some pundits see the mobile payments phenomenon as great news for the companies that sell the POS (point-of-sale) terminals to the retailers and restaurants.
That includes VeriFone Systems Inc. (NYSE: PAY), France-based Ingenico SA (OTCMKTS: INGIY), and NCR Corp. (NYSE: NCR).
Few outlets have upgraded to the NFC technology, or to the new EMV technology. That's the one all the credit card companies are racing to adopt to prevent data breaches like the one at Target last fall. So they will need to buy new POS terminals.
Sounds like a win for the POS terminal companies, right?
In the short term, it probably will be. But as the shift to mobile payments continues, the picture will get much darker.
Already many smaller businesses use add-on devices from companies like Square to turn smartphones and tablets into mobile POS terminals. By next year, analysts predict retailers will snap up some 3 million tablets annually for use as mobile POS terminals.
"Traditional POS terminals will be replaced (or never bought at all) and traditional players, who don't adjust, will see their market share erode," writes Karen Webster, an expert on payment systems and the CEO of Market Platform Dynamics.
Now investors know which companies to avoid. Tomorrow we'll look at the winners.
Written By David Zeiler From Money Morning
We're in the midst of the greatest investing boom in almost 60  years.  And rest assured – this boom is not about to end anytime soon.  You see, the flattening of the world continues to spawn new markets  worth trillions of dollars new customers that measure in the billions;  an insatiable global demand for basic resources that's growing   exponentially; and a technological revolution even in the most distant  markets on the planet.  And Money Morning is here to help investors profit handsomely on this seismic shift in the global economy. In fact,  we believe this is where the only real fortunes will be made in the  months and years to come.