While concerns about iPhone sales are always valid – Apple Inc. (NASDAQ:AAPL) does draw the majority of its profits and revenue from its iconic smartphone – the bite out of AAPL stock since the company's Q3 earnings is overblown.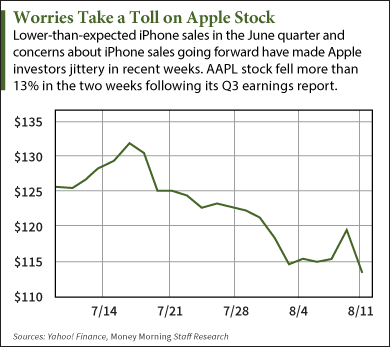 The latest AAPL stock price drop started when the Cupertino, Calif.-based company reported iPhone sales of 47.5 million in the June quarter. That missed Wall Street expectations for 48.8 million (the whisper number was even higher, at 50 million).
The next day, Apple stock fell 4.22% to $124.66 for the session. Over the following days concerns deepened, taking the AAPL stock price down further.
Wall Street suspected that Apple Watch sales, which the company did not break out separately, were faring badly. And news that Apple had slipped from first to third in the Chinese smartphone market amplified worries about the iPhone.
Bank of America Merrill Lynch (NYSE: BAC) downgraded AAPL from "Buy" to "Neutral," predicting that sales of the new iPhone models due Sept. 9 won't match those of the high-flying iPhone 6 models.
By Aug. 4, the Apple stock price had sunk to $114.12. The financial media fixated on the $90 billion decrease in Apple's valuation. And the slide conjured up thoughts of Apple's 2012-2013 slump, when the stock plunged 44% in seven months.
An AAPL rally of 3.64% yesterday was undone today (Tuesday) as the Apple stock price slipped as low as $113.33, a drop of more than 5%.
And the Apple bears may not be done yet. Money Morning Options Expert Tom Gentile thinks Apple stock could fall as low as $106 this time around.
But in the long run, the Apple stock price will bounce back. And several of Money Morning's top experts, including Gentile, see AAPL hitting $200 a share within the next couple of years.
"Three to five years from now, the current drop is going to be nothing more than a blip," saidMoney Morning Chief Investment Strategist Keith Fitz-Gerald.
Here's why the big-picture case for Apple is much stronger than it looks at the moment…
Why the Apple Stock Price Drop Is a Temporary Setback
Let's first look at what has made Wall Street so nervous about Apple stock – and why much of the concern is unfounded.
Those Q3 iPhone sales did miss expectations, but were still up 35% year over year. And even after factoring in stock buybacks, profits were up 38%.
What about iPhone sales in China? In Apple's Q3, iPhone unit sales were up 87%, and overall revenue from China rose 112%.
The iPhone's slippage in Chinese market share is mostly due to Apple's iPhone product cycle. The iPhone 6 models launched in September of last year. Meanwhile, Xiaomi and Huawei have introduced several new models.
When the iPhone 6s (or iPhone 7, depending on whether Apple follows past practices) debuts next month, the Apple smartphone is likely to regain the top spot in China.
And with a new model, iPhone sales will again explode. Despite amazing sales numbers for the iPhone 6, analysts estimate that only 27% of the installed base has upgraded. So there are plenty of owners of earlier iPhone models ripe to move up to the iPhone 6s.
How the New iPhones Will Keep Sales Humming
Plus, the bigger screen sizes of the iPhone 6 helped Apple change the market dynamics, luring consumers away from Android-based phones. First-time iPhone buyers make up 35% of sales.
While the new iPhones won't have something as dramatic as bigger screens to drive sales, they will have some enticing new features. (Screen sizes are expected to remain the same.)
Rumored new features like "Force Touch" technology (which responds to the amount of pressure on the screen), a much improved camera, and an increase in the base memory from 16 gigabytes to 32, will keep sales growing.
And don't forget that with the arrival of new models, the old iPhone 6 and iPhone 6 Plus will get price drops, making their large screens more affordable.
What's often forgotten is that the iPhone is the linchpin of Apple's best-in-class ecosystem of hardware, apps, and cloud-based services. It remains an aspirational product around the globe.
Regarding the Apple Watch, it's still too soon to say. An increasing amount of anecdotal evidence says Watch sales are not as high as Apple had hoped. But even if that's true, the Apple Watch is a young product. It may yet catch fire next year, or the year after.
Even if the Apple Watch doesn't become a major moneymaker, it won't hurt the company much. Apple has other ways to grow its business.
Mac sales continue to grow. The Apple Music service has 11 million trial members, which should yield between 2 million and 3 million paying subscribers when the free period ends.
Meanwhile, Apple's long-awaited streaming television service is expected to debut next month, which will add another revenue stream of paying subscribers.
Looking further down the road, Fitz-Gerald sees the Apple juggernaut only getting stronger.
The Apple Stock Price Is Going to $200
"Apple has a long history of creating devices that fill needs people don't even understand they have… then turning them into industry standards," Fitz-Gerald said. He believes the company's focus on expanding its already-powerful ecosystem into new areas is the key to future growth.
"I'm thinking here about things like Apple Pay, Apple powered cars, TVs, even buildings, artificial intelligence, and form factors that haven't been invented yet but which you can bet are already on Apple's drawing board," Fitz-Gerald said.
He thinks the company will grow both revenue and earnings by a healthy 25% to 30% a year for the next five to 10 years.
Fitz-Gerald has had a $200 price target on AAPL since April and frankly is thrilled at the recent Apple stock price drop.
"Stocks like Apple rarely, if ever, take a break like this," Fitz-Gerald said.
"That means you've got one whale of an opportunity on your hands, and a unique chance to buy in when everybody is running the other way."
The Bottom Line: The recent Apple stock price drop is an overreaction to unrealistic expectations and concerns unlikely to materialize.
Sales of the next revision of the iPhone will prove much stronger than Wall Street thinks.
With the AAPL stock price on a path to reach $200 a share, investors should seize this buying opportunity.
Written By David Zeiler From Money Morning
We're in the midst of the greatest investing boom in almost 60  years.  And rest assured – this boom is not about to end anytime soon.  You see, the flattening of the world continues to spawn new markets  worth trillions of dollars new customers that measure in the billions;  an insatiable global demand for basic resources that's growing   exponentially; and a technological revolution even in the most distant  markets on the planet.  And Money Morning is here to help investors profit handsomely on this seismic shift in the global economy. In fact,  we believe this is where the only real fortunes will be made in the  months and years to come.