Billionaires Portfolio:  Despite the powerful recovery in stocks, the rally has had few believers. All along the way, skeptics have pointed to threats in Europe, domestic debt issues, political stalemates, perceived asset bubbles — you name it. As it relates to stocks, they've all been dead wrong.
The S&P 500 is now more than 200% higher than it was at its crisis-induced 2009 lows, and 34% higher than its all-time highs. Meanwhile, the Nasdaq 100 is still shy of its March 2000 high of 4816. That creates a scenario for an explosive rise still to come for the Nasdaq.
For those that have been cautious about the level of stocks, many have argued that the economy is fragile. The bond market disagrees. The yield curve may be THE best predictor of recessions historically. Yield curve inversions (where short rates move above longer-term rates) have preceded each of the last seven recessions. Based on this yield curve analysis, the Cleveland Fed puts the current recession risk at just 5.97% — a level more consistent with economic boom times.
With this economic backdrop in mind, our research shows that stocks will continue to march higher, likely a lot higher.
Consider this: If we applied the long-run annualized return for stocks (8%) to the pre-crisis highs of 1,576 on the S&P 500, we get 2,917 by the end of this year, when the Fed is expected to start a slow process toward normalizing rates. That's 38% higher than current levels. Below you can see the table of the S&P 500, projecting this "normal" growth rate to stocks.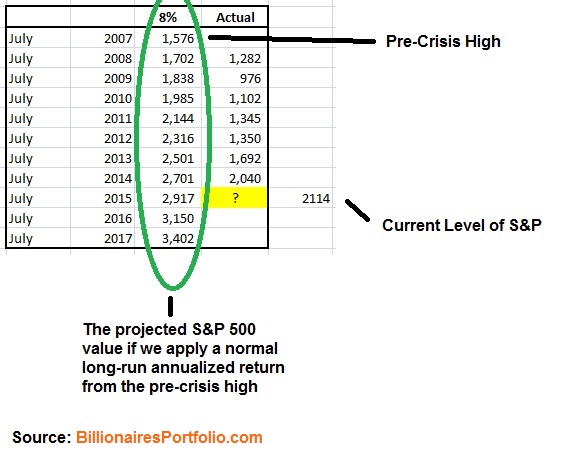 In addition to the above, consider this: The P/E on next year's S&P 500 earnings estimate is just 17.1, in line with the long-term average (16). But we are not just in a low-interest-rate environment, we are in the mother of all low-interest-rate environments (ZERO). With that, when the 10-year yield runs on the low side, historically, the P/E on the S&P 500 runs closer to 20, if not north of it. A P/E at 20 on next year's earnings consensus estimate from Wall Street would put the S&P 500 at 2,454, or 16% higher than current levels for stocks.
What about the impending end to zero interest rates in the United States? Well, guess what? Asset prices are driven by capital flows. Barron's reports a $1.63 trillion spread between bond-fund inflows and equity-fund outflows from January 2007 to January 2013, said to be the widest spread ever. Over that period, $1.23 trillion flowed into bond funds and $409 billion exited equity funds. This means, an official end to zero interest rates should mean a flood of capital leaving bond markets and entering equity markets.
Now, how might all of this bode for the Nasdaq? In March 2000 when the Nasdaq traded at its all-time highs, the index traded at well over 100 times earnings. And the ten year yield was 6.66%. As an investor, you could exit a market with record high valuations and get a risk free, nearly 7% return on your money in Treasuries. Today, the Nasdaq has a price/earnings multiple of just 21. And the ten year yield is a paltry 2%. This dynamic continues to underpin demand and capital flows favoring stocks.
With that said, here are the top four constituents in the Nasdaq 100, their current valuation and the equivalent investment option in the year 2000, when the Nasdaq last peaked.
1) Apple Inc. (NASDAQ:AAPL) – Apple trades at just 15 times next year's earnings estimates. Back in 2000, Microsoft (MSFT), the biggest constituent company of the Nasdaq traded 57 times forward earnings.
2) Google Inc (NASDAQ:GOOG) – Google trades at 19 times next year's earnings estimates. Back in 2000, Cisco (CSCO), the second biggest constituent company of the Nasdaq traded 127 times forward earnings.
3) Microsoft Corporation (NASDAQ:MSFT) – Microsoft trades at just 16 times next year's earnings estimates. Back in 2000, Intel (INTC), the third biggest constituent company of the Nasdaq traded 43 times forward earnings.
4) Facebook Inc (NASDAQ:FB) – Facebook trades at 39 times next year's earnings estimates. Back in 2000, Oracle (ORCL), the fourth biggest constituent company of the Nasdaq traded 103 times forward earnings.
Brought To You Courtesy Of William Meade From The Billionaires Portfolio
The insider behind the Billionaire's Portfolio is William Meade. William started his career with Wood Asset Management. Wood Asset Management was a $1.5 billion dollar institutional asset management firm and hedge fund, founded by Gary Wood, a former Goldman Sachs Partner and Harvard MBA. At Wood, William helped manage equity and fixed income portfolios for major university endowments, Fortune 500 pension funds and super high net worth clients (including 2 billionaire families).
Next, William was Director of ETF and Mutual Fund Research for Zacks Investment Research in Chicago. At Zacks, he worked with the founder Len Zacks, a PHD from MIT, in developing and maintaining a proprietary model that ranked over 20,000 ETFs and mutual funds. This model was viewed and used by over 150,000 people monthly, and was published in US News and World Report, and featured on CNN, Yahoo Finance, and Fortune.com.
William received a Masters in Economics from Johns Hopkins University, including PhD level coursework in International Economics. At Johns Hopkins, Mr. Meade was taught by Economists from The Federal Reserve and Department of Treasury. While at Johns Hopkins Mr.Meade consulted for a top hedge fund in Washington DC.