Przemyslaw Radomski, CFA: According to Reuters, Fed stimulus has helped fuel the S&P's gain of nearly 19 percent in 2013. The Fed is seen as moving toward reducing its $85 billion in monthly bond purchases, causing some investors to take a step back from stocks.
The S&P 500 index dipped on Monday, extending losses from Wall Street's worst week since June last week. Yesterday, the Standard & Poor's 500 Index was down 0.12% and closed at 1,689.47 level.
And what has happened with silver in the recent days?
The white metal extended gains and soared more than 4% to a near two-month high, while recent strong U.S. and Chinese economic activities prompted some investors to buy silver as an industrial play.
Will this inverse very short-term relationship between the general stock market and silver last longer? After all, on average silver used to move in the opposite direction to what the stock market was doing – taking medium-term moves into account. Let's take a look at the Correlation Matrix for more details.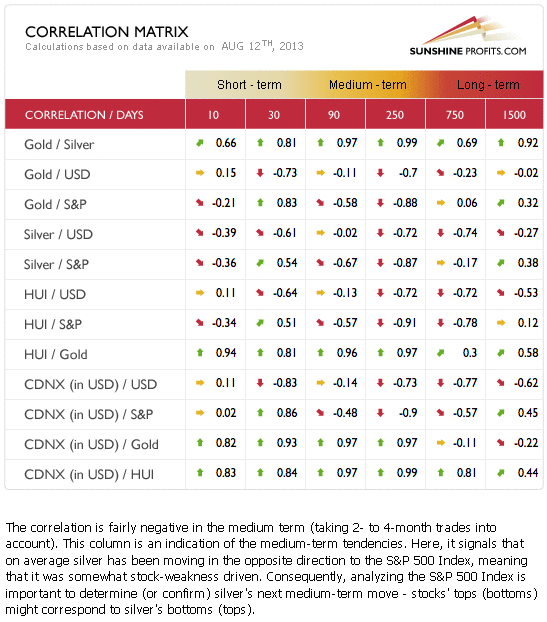 The correlation between silver and the general stock market is slightly negative in the very short-term (the 10-day column), but it's positive in the (more meaningful) 30-day column. This means that even though the last few days were positive for silver and negative for stocks, a short-term rally in stocks would likely be seen along with a short-term rally in silver. If the move is significant, however, and it continues for weeks, the medium-term relationships are the ones that we need to focus on. These relationships are negative (90- and 250-day columns). These numbers simply mean that if investor sentiment gets more positive based on a significant rally in stocks, they are likely to drop precious metals investments as they feel that a hedge against a decline is no longer necessary.