Shah Gilani: The timing of a possible stock market crash and depression is the bazillion-dollar question right now.
Those are the main topics my readers have asked me about since my Jan. 31 column, "It's Not Time to Sell Everything – Yet."
I'm answering most of them here – and also letting you know exactly what I'm going to do myself.
Here's the start of my plan…
How We're Getting There
Markets last week, especially U.S. markets, got down to "support" levels and dutifully bounced in an orgy of lusting futures and Viagra-fueled excitement.
Higher oil led the charge.
That's worrisome. Oil may not have found a bottom. Falling 60% and then bouncing close to 20%, without any consolidation or a capitulation bottom, isn't a sure sign of anything.
A lot more buyers went "long" (bought) oil looking for a bottom than there were long futures holders selling on the way down.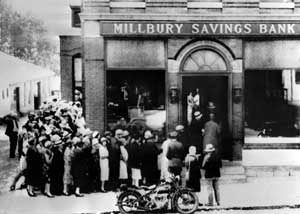 If oil did put in a bottom and we hold between, say, $45 and $50 (based on the West Texas Intermediate spot price) on the downside, that's good. However, if we break below $43, then break $40, and it looks like $30 is a possibility, all hell will break loose.
All those new buyers loading up on oil, oil stocks, drillers, and explorers will dump their new bets like they were ticking bombs. In the process, all the longs who held on all the way down, because they were in a state of disbelief, will freak and sell, sell, sell.
That would make a crash self-fulfilling.
That could cause a stock market sell-off – a panic. Why? Because investors were very nervous when we got down to support. When oil looked better, they all jumped back in.
All those new players will jump out if the oil's-higher-it-feels-better sentiment turns to an "OMG, we were wrong" psychology. Then, if we get to support again, the same support that just held, and that gets broken, look out below. Margin calls will start rolling in.
Stocks are moving right up to resistance – we're almost there. If stocks can't break out above resistance levels and make new highs but slip this coming week, that's not good.
As far as timing, I'm first and foremost watching oil and how stocks react to oil price movements.
At the same time, I'm watching Europe. European stock markets better bounce, and European sovereign bonds better not weaken.
Interest rates rising, for any reason, will be the canary in the coal mine in Europe. With Europe's new quantitative easing program in place, neither of those two things should happen.
However, if something breaks in Europe, that's another potential market killer. Watch Europe like a hawk.
I'm watching the U.S. dollar. The U.S. Federal Reserve could ratchet up expectations for an interest-rate hike, which would cause the dollar to rise further against all other currencies. At the same time, a lot of other countries are trying to devalue their currencies to make their not-so-robust exports more "competitive."
The problem there is that emerging markets have $5.7 trillion of dollar-denominated debts.
That means they borrowed in dollars and have to convert their home currencies to pay interest and principal in dollars. Their falling currencies against the dollar could trigger defaults. If that happens, the rush out of emerging markets will make 1998 look like a day at the beach. Watch for foreign borrower defaults.
Last, but not least, by a long shot, there's China…
How about the Shanghai Composite's one-year gain of 51.29%, as every indicator in China shows the economy is slowing?
Does that make sense?
The People's Bank of China (PBC) just had to lower reserve requirements for banks. Do you get that? As the world is trying to make banks safer by making them raise reserves, the PBC is telling its banks to reserve less. Why? Because they are facing a credit crisis. If it turns full-blown, it will make the U.S.-led credit crisis of 2008 look like a warm-up act.