Unrest in Egypt is barely three weeks old and already the ripple effect has crossed the globe in several waves.
I find it interesting how regional and country ETFs can be of some assistance in evaluating how investors are thinking in terms of contagion risk, be it political or economic – or at the very least in terms of the breadth and depth of the economic impact of specific events.
In this week's chart of the week, I endeavor to track some elements of the relative geographical spread of concern with a handful of ETFs. The baseline ETF, Market Vectors Egypt Index ETF (NYSE:EGPT), shows how the situation deteriorated over the long weekend in the U.S. from January 14th to January 18th, then began to accelerate downward during the January 26th trading session.
In terms of impact, the additional four ETFs include one broad-based frontier ETF, Guggenheim Frontier Markets (NYSE:FRN), and three single-country ETFs: iShares MSCI Turkey Invest Mkt Index (NYSE:TUR); iShares MSCI Israel Cap Invest Mkt Index (NYSE:EIS); and iShares MSCI South Africa Index (NYSE:EZA). Of this group, the Turkey ETF has proven to be the most volatile during the crisis and also suffered the largest drawdown. Interestingly, the Israel ETF has been the least volatile of the group, but the only one which appeared not to find a bottom on January 28thand continued to trend lower. The top performer of the group is EZA, the South African ETF. EZA has fallen slightly more than half as far as EGPT since the beginning of the crisis and has steadily gained strength during the past week. Among country ETFs, EGPT and TUR were the top two performers during the past week.
Note that there are several regional ETFs which cover northern Africa and the Middle East. I discussed these during the Dubai crisis at some length in Frontier ETFs and Chart of the Week: Market Vectors Gulf States ETF (MES).
Related posts: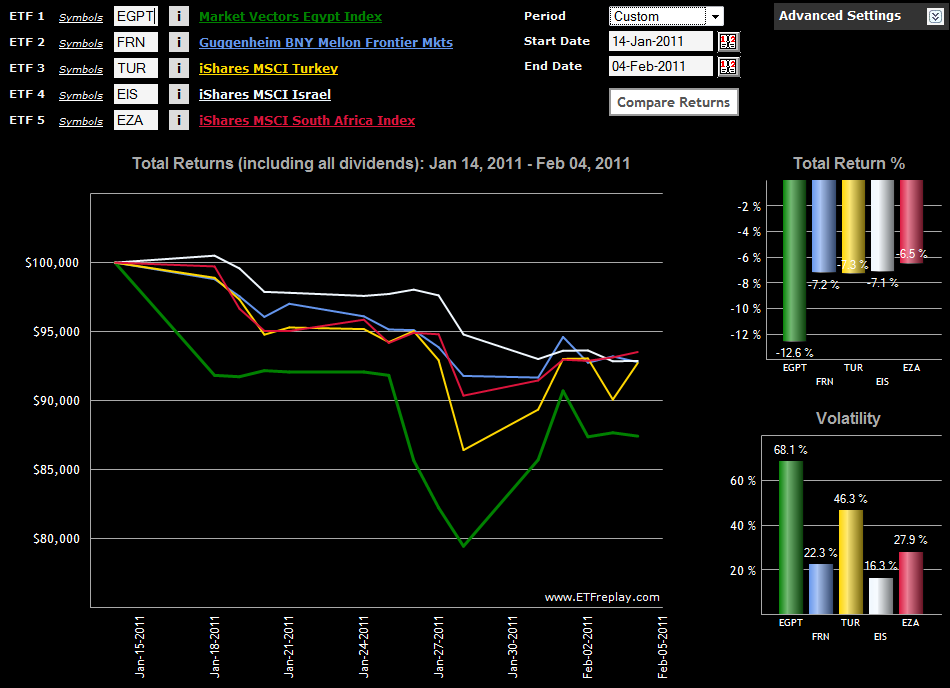 [source: ETFreplay.com]
Written By Bill Luby From The VIX and More
Disclosure(s):
long TUR at time of writing
Bill is a private investor who also authors the VIX and More (
http://vixandmore.blogspot.com/
) blog and an investment newsletter from just north of San Francisco. His research and trading interests focus on volatility, market sentiment, technical analysis, and ETFs. Prior to becoming a full-time investor, Bill was a business strategy consultant for two decades and advised clients across a broad range of industries on issues such as strategy formulation, strategy implementation, and metrics. When not trading or blogging, he can often be found running, hiking, and kayaking in Northern California. Bill has a BA from Stanford University and an MBA from Carnegie-Mellon University.