Chris Ciovacco: Thursday's better than expected U.S. GDP numbers were interpreted by the markets as "good economic news is bad news on the Fed tapering front". From Bloomberg:
U.S. stocks fell, dragging the Standard & Poor's 500 Index to its biggest loss in two months, as speculation the Federal Reserve may scale back stimulus amid faster-than-estimated economic growth overshadowed a move by the European Central Bank to cut a key interest rate. The market will be volatile," Ernie Cecilia, chief investment officer at Bryn Mawr Trust, said in a phone interview. "You had some good economic news today and we'll see what the payrolls numbers are tomorrow. The fear is that with better-than-expected economic numbers, tapering will commence sooner rather than later."
Slopes Speak To Conviction
The three charts that follow show the S&P 500 in 2008, 2011, and 2013. The colored lines are moving averages that help us filter out day to day volatility and focus on trends. Notice how the moving averages are moving sideways (black box below) before the big plunge in 2008. The horizontal-to-down look of the moving averages speaks to a lack of bullish economic conviction and/or indecision. Yellow flags were waving well before stocks plunged in early September 2008. In general terms, the weaker the trend (horizontal or negative slopes), the higher the probability of a more severe decline. The stronger the trend the higher the probability a pullback will be met by willing buyers.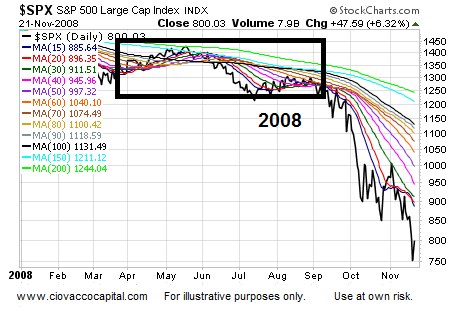 The same "it typically takes time to form a significant top" theme applies to 2011. Sideways action and horizontal-to-negative slopes were in place before stocks dropped hard in July-August 2011. The black box resulted from fundamental concerns about debt and systemic risk in the United States and Europe.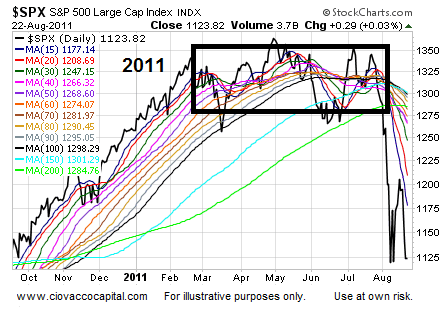 Bullish economic conviction has been much stronger in 2013, which can be seen by the slopes of the colored moving averages. From a probability perspective, some consolidation (ups and downs) would most likely precede any waterfall-like plunge in equities. If stocks drop further in the next two weeks, a bullish bounce or retest of the recent highs would align with the strength of the current trend. Economic fear is much tamer in 2013 and even under the most bearish scenario, would likely take time to morph into levels seen in 2008 and 2011.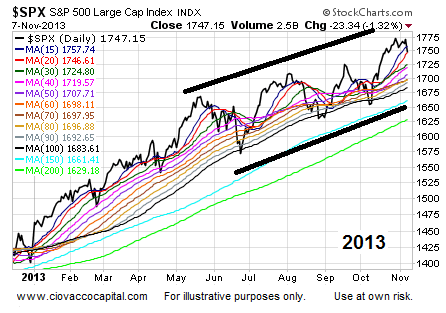 Super Mario Throws Currency Markets A Curve
The market's expectation heading into Thursday's European Central Bank (ECB) meeting was for (a) no change in interest rates, and (b) hints that a rate cut could be coming soon. The ECB strayed from the market's script. From Bloomberg:
Mario Draghi is showing that when he pledges action, he means it. With yesterday's surprise rate cut, the European Central Bank president delivered on an Oct. 2 promise to act if its price-stability mandate is threatened. The move comes more than a year after Draghi turned the tables on Europe's sovereign debt crisis by saying he'd do "whatever it takes" to save the euro and presenting an unlimited bond-buying program. His policy announcements show a pattern that started two years ago with an unexpected rate reduction at his first meeting in charge.
Fibonacci Retracements
If weakness continues, the blue horizontal lines show logical points where buyers may step in, based on the October low and recent high in the S&P 500 Index.