Scott Pluschau:  There is a classic technical analysis pattern looking at the Technology Select Sector SPDR ETF (NYSE:XLK). Since the beginning of year 2011 XLK has formed a "Bearish Triple Top" formation marked with blue ovals on the chart below. However, when the breakdown of the neckline happened we didn't quite complete the pattern. Using "Swing Rule" it is after a breakdown of the neckline on a bearish triple top formation, that you use the distance between that neckline and the top of the formation to set a profit target. Failed patterns are strong, so when XLK had trouble pushing lower to the target, the pullback to the breakdown area was likely to be quick. This has happened three times now and is forming a potential "Head and Shoulders" pattern on the daily chart. If I was long a position in XLK I would be looking to close out my trade right here based on the weekly chart. While at the same time considering getting back in the trade in only one of two scenarios? Either a return below to a prior support area, or a breakout of that triple top resistance area. Who knows how long that is going to take?If we were long and sold here what is the risk? A breakout to new highs, and getting back in will costs us a few points by paying up for the higher price (Plus any potential tax ramifications).
What is the potential reward? If there is a selloff afterward, we get to protect our capital, as well as have it to use on other new potential trading opportunities.
What makes this is a good trade for a short sale is the light volume rally to a multiple points of contact major resistance level, with looming overhead supply.
This price and volume action is the reverse of a breakout from a consolidation area when we get the throwback to the prior resistance area on light volume, with a ton of recent demand below. That becomes the low risk entry to buy normally. Nobody is going to be right all the time when they make trading decisions. The best we can do is to put ourselves in a position to take advantage of good enough probabilities, while protecting ourselves from possibilities. What is the best way to do that in my opinion? By finding good trade locations based on auction market principles or valid pricing and volume patterns that have a proven history, in comparison to the current reward to risk ratios in front of you while using proper position sizing in relation to the account size. Throw in consistency, objectivity, and discipline on top of that and only then do you have a fighting chance as a trader.
What about the stop loss or risk management on a short trade in XLK? In full disclosure I have no position in XLK at this time, but I would be looking to reduce my risk on the short trade by finding a reversal pattern in a smaller degree time frame in order to make my move. That reversal signal might be the breakdown of the Head and Shoulders pattern I noted on the daily chart below.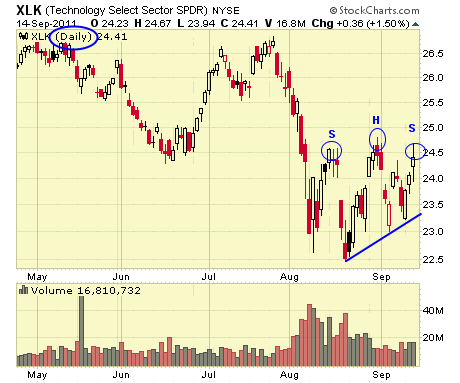 I like to use the risk of the pricing pattern in a smaller degree timeframe in conjunction with the trend or potential reward in the bigger picture in order to capitalize on the greatest reward to risk. The stop loss on a breakdown of the neckline on the head and shoulders pattern is above the right shoulder. The initial target on a head and shoulders pattern is the length between the head and the neckline using swing rule.
Written By Scott Pluschau From ETF Digest  
Scott was a financial advisor with Citi. His technical analysis report was recently featured by Dr. Marc Faber on the Nasdaq Composite Index in his June 1, 2011 Gloom Boom & Doom report. Scott earned his degree in Accounting and Taxation from Pace University. He lives in Long Island with his wife Ilona, daughter Olivia and new baby Henry.
ETF Digest writes a subscription newsletter focused on technical analysis of exchange-traded funds. ETF Digest was founded in 2001 and was among the very first to see the need for a publication that provided individual investors with information and advice on ETF investing.  Even if you're not a fan of chart analysis, ETF Digest provides insight and commentary into which global markets are "working" and why.