Thomas Carreno:  The chart you are about to see below may be one of the most important S&P 500 (NYSE:SPY) charts I have ever created with possible dramatic implications for the next 5 to 10 years.  This long term chart is much different than the other longer term multi year charts because this one shows a down trending channel.  My previous multi year chart shows a massive horizontal channel which is still valid.  But the horizontal multi year channel implies a simple trading range instead of a mega bear channel.
The very long term chart of the S&P 500 on the yearly basis shows that there exists the possibility that we are not hitting the top portion of a mega yearly channel right on the Marty Armstrong Cycle turn date and that this turn could mark the beginning of a multi year down move back to the bottom of the channel.
If true then it would put the S&P 500 eventually near 450 by 2016?  That is an extremely rough guess.
The most interesting aspect of the theory is whether we are at a valid top right now that does turn into an extended bear leg for the next several years which would be consistent with a market that wants to move back down to the bottom portion of the yearly channel.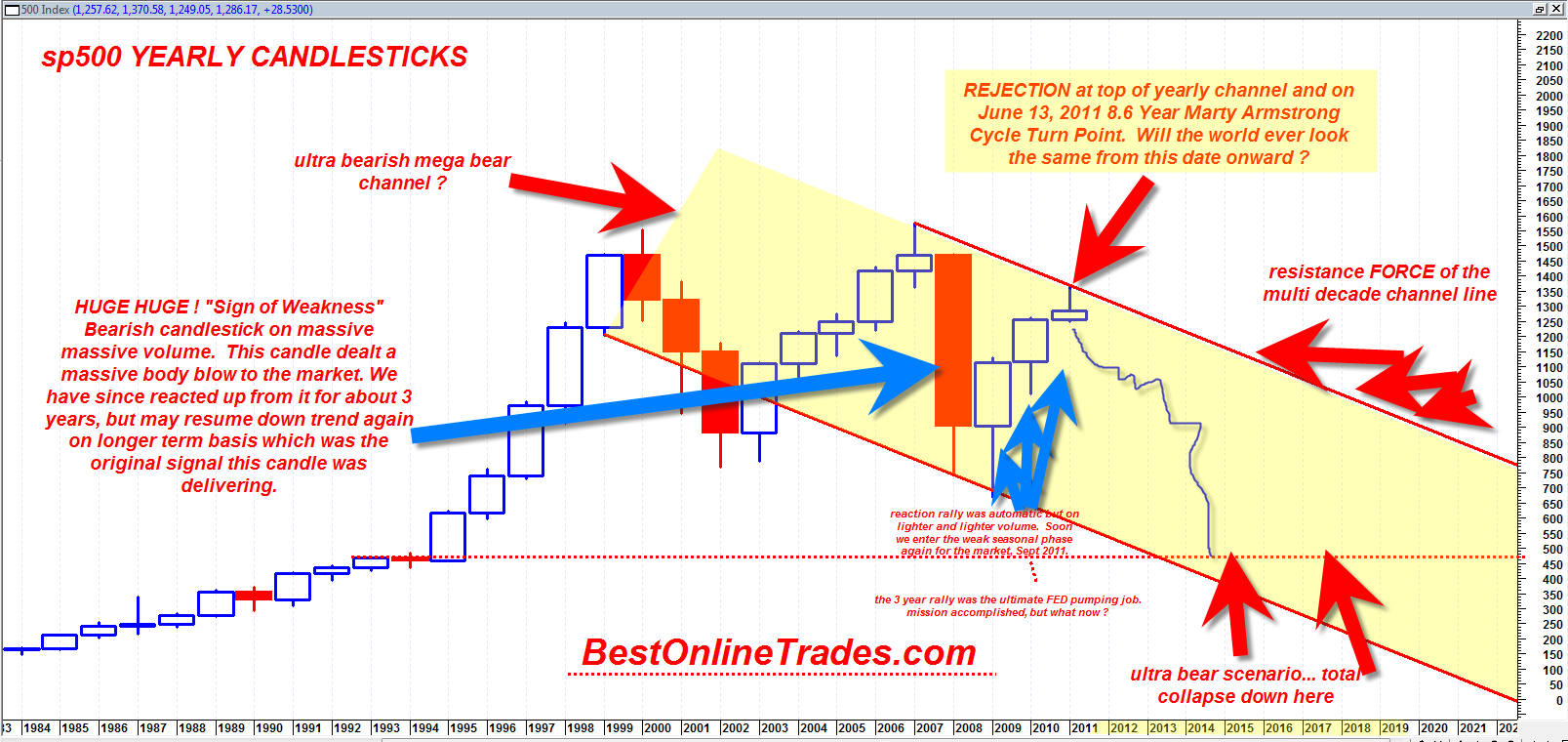 It is very important to emphasize that it is still unknown whether the current bearish reaction from the top portion of this channel will hold as a sustained bearish reaction.  Breaking below 1250 on the S&P 500 will be a sign that the bear channel is working.
A break upwards and through this bear channel looks unlikely now but cannot be entirely ruled out yet.
Note also the extremely bearish yearly 2008 candlestick which was a major sign of weakness that kicked off this bear channel decline.  The 3 year reaction up from this down candle has been on weaker and weaker volume.  In addition the volume has been very weak as we hit the top portion of the channel line.  This is not a bullish sign and is quite the opposite.
The market is always delivering possibilities and potential scenarios.  There are moderately bearish scenarios and ultra bearish scenarios.  The ultra bearish scenarios are exceedingly rare.  But we are living in extraordinary times.  I can envision an ultra bearish scenario whereby we get a similar bearish looking YEARLY Candlestick that looks just like the 2008 yearly candlestick, but even more bearish.  if we do get that, then it could put the sp500 at 550 by mid 2012. 
That ultra bear scenario makes sense when we consider the possibility that we are doing a massive A B C down leg having just completed the B leg up.  It makes sense when we consider the volume aspect as well. (down volume versus up volume).  September October of this year could start to lead to some real fireworks on the bear side.
BestOnlineTrades correctly issued a BOT Short Signal on May 11, 2011 at 1338 on the sp500.  Then we switched to neutral on May 31, 2011 on what looked like a northward channel breakout.  But it was a very dangerous head fake.
Then, after that we switched back to BOT Short Signal on at 1310 on June 2, 2011.
BestOnlineTrades has also been correct to over emphasize the importance of the Marty Armstrong 8.6 year cycle turn date months ahead of time (even going back as far as February 2011).  If you are skeptical of Marty's turn dates then take a look at this previous post I did where it nailed the top in real estate in 2007.  It is possible we are at another turn juncture in real estate right now with perhaps the same powerful signal as was seen in 2007.
In the short term daily chart of the S&P 500 it seems reasonable to expect a bounce higher this week.  We did close below an important support range today however but on less volume than two previous important price swings in this range. 
In my opinion a test of 1250 is still coming eventually as I have hinted on several times already.  I expect that once there, we should see some type of bounce or stoppage point (pause point) in the current decline.
Also notable, BestOnlineTrades was correct to make an important observation on the massive monthly hanging man candlestick on the sp500.
Stay tuned to BestOnlineTrades for ongoing MULTI YEAR coverage of this possible important juncture in the market.
Tickers: SPDR S&P 500 ETF (NYSE:SPY), ProShares UltraShort S&P500 ETF (NYSE:SDS), ProShares Short S&P500 ETF (NYSE:SH), ProShares Ultra S&P500 ETF (NYSE:SSO), Direxion Daily Small Cap Bull 3X Shares (NYSE:TNA), Direxion Daily Small Cap Bear 3X Shares (NYSE:TZA), iPath S&P 500 VIX Short-Term Futures ETN (NYSE:VXX), SPDR Dow Jones Industrial Average ETF (NYSE:DIA), Direxion Daily Financial Bull 3X Shares (NYSE:FAS), Direxion Daily Financial Bear 3X Shares (NYSE:FAZ).
Written By Thomas Carreno From Best Online Trades 
I started 
Best Online Trades
because I really enjoy trading and I also enjoy writing about trading.  Writing about trading or trading strategies helps transfer thoughts that would otherwise stay in 'theory' and helps move them to more concrete form for me. And hopefully along the way you will pick up something useful as well. 
BestOnlineTrades
covers many different aspects of trading, from commodities to stocks, from indices to ETF's.