Alex McGuire:  Etsy Inc's (NASDAQ:ETSY) recent performance constitutes a strong rebound from the significant decline that started as soon as the company went public on April 16.
The Etsy stock price plummeted 45.7% during its first two months as a public company.
It has been considered the worst-performing IPO of 2015 and proved itself worthy of the title thanks to two straight quarters of losses.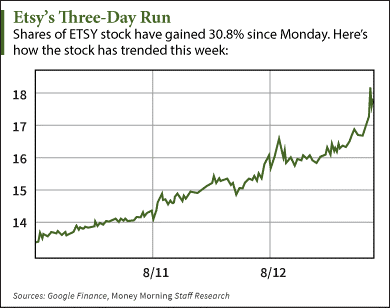 In Q1, Etsy posted revenue of $59 million, up 44.4% from $40.5 million in Q1 2014. However, the company still lost $0.84 per share.
Total operating expenses skyrocketed 73% to $42.7 million over the same period.
The firm's financial troubles continued into the second quarter. Etsy reported a loss of $6.4 million in Q2, or $0.07 per share.
Total operating expenses were $43.2 million in the second quarter, up 49.3% year over year.
The costs came from marketing, increased hiring, and product development expenses.
With ETSY stock on the rebound, investors are wondering if they should buy ETSY now…
With the ETSY Stock Price Up 5%, Is ETSY Stock a Buy?
The biggest risk with buying Etsy stock is the company's lack of profitability.
The company's operating expenses have skyrocketed in the last couple years and are projected to keep growing.
They increased 81.4% in 2013 and 67.6% in 2014. Etsy's expenses of $43.2 million in Q2 alone show that the company isn't cutting back its costs.
The second red flag is Etsy's B Corp. status.
The B Corp. status defines Etsy's mission and culture. The certifications are awarded by B Lab, a nonprofit that, according to its website, "uses the power of business to solve social and environmental problems."
B Corp. certifications are awarded to companies that meet various social, environmental, transparency, and accountability standards.