technical back drop (see video below) and we have a recipe for continued stress-inducing volatility in the stock, bond, commodity, and currency markets.
While a strong countertrend rally in risk assets could easily emerge following the recent waterfall declines, comments from policymakers will remind seasoned traders sharp rallies are often retraced in relatively short order when conditions are this unsettled. Christine Lagarde, the new managing director of the International Monetary Fund, said in her prepared remarks over the weekend in Jackson Hole:
European banks should be required to raise more capital to prevent further contagion of the debt crisis.
The United States needs to address the slide in housing prices.
Short-term stimulus is needed in both the U.S. and Europe.
Lagarde said the global economy has entered a "dangerous new phase" in which "we risk seeing the fragile recovery derailed." In the United States, many questioned the need for Bank of America to raise additional capital, and yet the mortgage-saddled bank gladly took in new funds from Mr. Buffet. In Europe, talk centered around the shorts and traders targeting banks without merit, and yet the director of the IMF sees reasons to be concerned. The problems in Europe are far from over.
In the September 5 issue, Fortune reported on the growing concerns about the mountains of debt in the euro economy:
Even if Europe's banks don't face a liquidity crunch, a drop in the value of sovereign bonds would severely deplete their capital, forcing them to halt new lending. The credit crunch would probably throw Europe into a severe recession. That in turn could kill the U.S. recovery, since the European Union accounts for 21% of U.S. exports. Even a truly apocalyptic outcome — where one or more weak nations abandon the euro, causing gigantic defaults and a Europe-wide banking crash — can no longer be dismissed.
Without question, the markets face serious fundamental hurdles. As we outline in the video below, the current technical backdrop for stocks compares favorably enough with the dot-com and mortgage/housing bull market peaks to keep an open mind about lower lows in the months ahead. Even if we have entered a new bear market, countertrend rallies are to be expected. The video covers some bull/bear clues to watch for in the coming weeks.

This week brings some important economic reports which have the potential to move the markets. The best hope for bullish outcomes is better than expected economic progress since many believe countries can grow their way out of this mess. Thursday's ISM manufacturing report is forecast to come in at 48.5, indicating a contraction in manufacturing activity. On Friday morning, the monthly labor report is due to be released. The early Bloomberg consensus calls for a meager 67,000 jobs; the low end of the forecast range calls for a loss of 5,000 and the high end points to 150,000 new jobs having been created.
Our approach in the short-term is to respect the bearish tone while keeping an open mind about better than expected outcomes. At some point, a sharp and somewhat promising rally will materialize. As the rally begins to take shape, we will review the relative merits of the long (NYSE:SPY) and short (NYSE:SH) sides of the market. If a stock rally looks unconvincing, we will also consider adding to our positions in fixed income instruments, such as iShares Barclays 20+ Year Treas Bond (NYSE:TLT) and Vanguard Total Bond Market ETF (NYSE:BND), under more favorable risk-reward conditions. We will continue to watch the list of top-ranked ETFs for both bullish and bearish indications. Should stocks rally, we will be looking for signs of shorts entering the market between 1,180 and 1,230 (see chart below).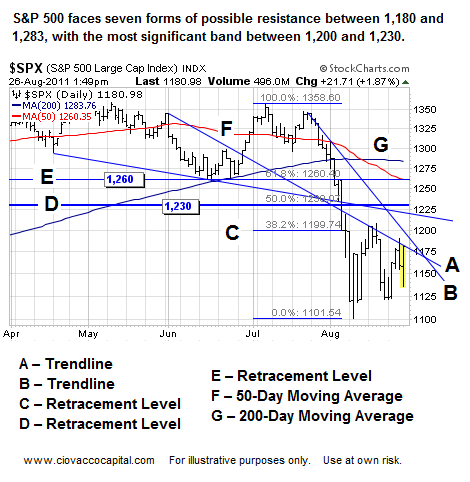 Written By Chris Ciovacco From Ciovacco Capital Management, LLC
Chris Ciovacco began his investment career with Morgan Stanley in Atlanta in 1994. With a focus on global macro investing, Chris uses both fundamental and technical analysis to assist in managing risk while looking for growth opportunities around the globe in all asset classes. If you are looking for an independent money manager or financial advisor, Ciovacco Capital is worth a look. Chris graduated from Georgia Tech with Highest Honors earning a degree in Industrial and Systems Engineering in 1990. His experience in the professional ranks began in 1985 as he began working as a co-op for IBM in Atlanta.
Ciovacco Capital Management, LLC (CCM) is an independent money management firm serving clients nationwide. By utilizing extensive research, disciplined risk management techniques, and a globally diversified approach, CCM prudently manages investments for individuals and business owners. Our focus is on principal protection and purchasing power preservation in an ever-changing global investment climate.