Jim Bach: Silver prices are taking a dive today (Thursday) on the heels of encouraging economic news, profit-taking, and anemic summer trading.
The New York spot price for an ounce of silver plunged to $20.45 a little after noon EDT, a 2.2% drop from the previous day's close of $20.90.
One of the likely culprits was positive economic news out of the Eurozone, with the release of the Markit Flash Purchasing Manager's Index, which tracks business activity based on output, new orders, employment, and prices across sectors. It indicated that there were better growth prospects for a region that has, for a while, been grappling with economic tumult.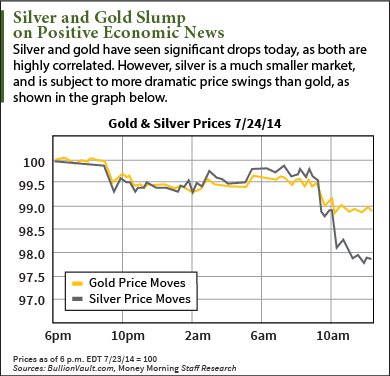 "Business activity picked up again in July to suggest that the economy is growing at one of the strongest rates we have seen in the past three years," said Chris Williamson, chief economist at Markit.
While this may be encouraging for the Eurozone, it only works to diminish investors' immediate needs for safe-haven assets, like silver. Precious metals tend to get a lot of attention from investors in times of panic, as they look for a vehicle to hedge against weakening currencies. The European credit crisis has been a big driver of silver investmentsince it started.
"Like other precious metals, silver will continue to benefit from concerns about European sovereign credit quality," Alex Bryan, an analyst at Morningstar wrote. "However, as conditions in Europe improve, investment demand for silver may contract."
More Factors Pushing Down Silver Prices
There are also encouraging developments in the U.S. job market. The U.S. Labor Department this morning released data showing that in the week ending July 19, weekly jobless claims fell to 284,000, a decrease of 19,000 and the lowest level of unemployment insurance claims since February 2006. Precious metals took cues from this positive labor market development and fell accordingly.
Another factor pushing down the price of silver was the cooling off from a six-week rally.