Cheap natural gas (NYSEARCA:UNG) means Americans can buy the equivalent of a barrel of crude for $35. That's the exciting reality that has Ron Muhlenkamp, founder and portfolio manager of Muhlenkamp & Co. Inc., putting his investment dollars behind the next great fuel switch, this time in the transportation sector. With his fund having finished 2013 with a tidy 34.4% gain, he is now eyeing companies poised to outfit the U.S. transportation sector with all things natural gas, from fuel tanks, to motors to filling stations. And let's not forget the folks who get it out of the ground. As Muhlenkamp tells The Energy Report in this interview, he's not sure who the ultimate winners will be, but he knows what the product lines will be. And we've only just begun, so there's plenty of room to run with well-positioned companies.
The Energy Report: Ron, welcome. You are making a presentation at the Money-Show conference in Orlando in late January. What is the gist of your presentation?
Ron Muhlenkamp: The gist of my presentation is that natural gas has become an energy game changer in the U.S. We are cutting the cost of energy in half. This has already happened for homeowners like me who heat their homes with natural gas. We think the next up to benefit is probably the transportation sector.
TER: What is behind this game change?
"Natural gas has become an energy game changer in the U.S."
RM: The combination of horizontal drilling and fracking has made an awful lot of gas available cheaply. There's a whole lot of gas that's now available at $5/thousand cubic feet ($5/Mcf) or less. I live in Western Pennsylvania, and 30 years ago, Ray Mansfield was in the oil and gas drilling business, having retired from the Steelers. He said, Ron, we know where all the gas is in Pennsylvania; it's just a matter of price. If the price runs up, we will drill more. If the price runs down, we will drill less. Any way you slice it, we are just sitting on an awful lot of it.
Two years ago, we had a warm winter, and the price of gas actually got down to $2/Mcf. You saw an awful lot of electric utilities switch from coal to gas. Literally in a year, what had been 50% of electricity produced by coal went to 35%. The difference was made up with natural gas.
In transportation, the infrastructure to make the switch to natural gas has not been in place. We didn't have the filling stations or the trucks. Now, the trucks are just becoming available. You can buy pickup trucks from Ford Motor Co. (F:NYSE) and General Motors Co. (GM:NYSE) that run on natural gas. Furthermore, Clean Energy Fuels Corp. (CLNE:NASDAQ) has established natural gas filling stations coast to coast, every 250 miles on five different interstate highways.
Westport Innovations Inc. (WPT:TSX; WPRT:NASDAQ) has been producing 9-liter (9L) natural gas engines. Waste Management (WM:NYSE) uses 9L engines on garbage trucks and expects 85–90% of its new trucks to be natural gas-fueled. Westport has just come out with 12L engines, which are used for over-the-road trucks. I don't expect those engines to get adopted as fast as the utility industry made the switch to natural gas, but there has been a fairly rapid adoption in the waste management industry. I think we're on the cusp of a major trend.
TER: That fuel switching in the power industry has been going on since 2008. Is it still progressing at the same rate or is it picking up?
"The big switch is over in utilities. But we've barely begun the transition with transportation fuel."
RM: It's pretty much leveled off. In fact, there's probably a little bit less gas used than when gas was below $3/Mcf. The latest numbers I've seen show that we're running about 37% coal and about 33–34% gas. Going forward, I think coal use will continue to decline, and natural gas use will continue to rise. The big switch is over in utilities, and it will be gradual from here. But we've barely begun the transition with transportation fuel.
TER: So the game has changed for the power industry, and the transportation industry is next. What other changes do you foresee in the future?
RM: We will continue to use more natural gas and less crude. Right now, for equal amounts of power, crude oil is priced at about three times the natural gas price in the U.S. That is too wide a spread to ignore, economically.
The Natural Gas – Crude Oil Spread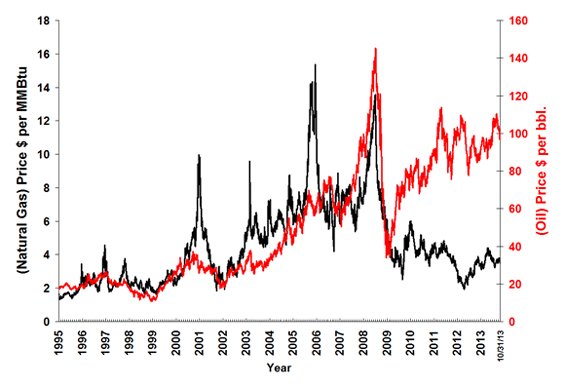 source: Bloomberg
Incidentally, in Europe, natural gas is still at $12/Mcf. It's on a par with crude. Most European chemical plants use a crude oil base to make chemicals.