6) In emerging economies cities are increasing in population requiriing the building of skyscrapers, pipelines, bridges and power plants which stainless steel is required.
7)Economic sanctions with Russia could be adding to nickel and palladium shortage.
8) Existing PGM and nickel production growth.
9) China the largest growing consumer of these metals have very little from their own domestic production.
10) Very few high quality and advanced mining projects in stable jurisdictions that are in the project cupboard.
In conclusion, focus on either the Platinum (PTM), Palladium (PALL) and Nickel (JJN) ETFs tracking the commodities. If looking for leverage to PGM and nickel prices look at the large cap miners such as Stillwater Mining (SWC) which is the only US palladium producer. Stillwater is making a major breakout into new two year highs.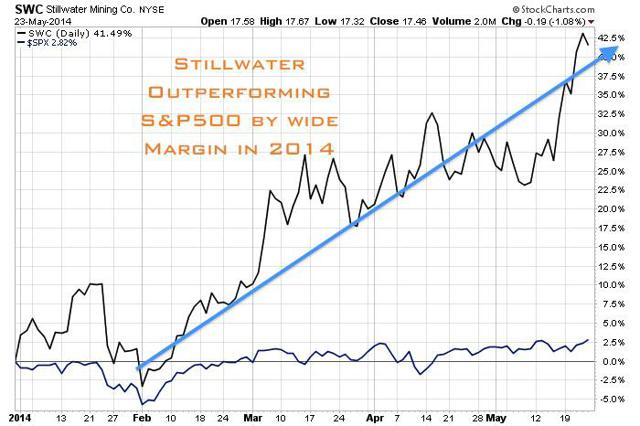 For more speculative investors looking for outsized gains with additional risk should now study the junior miners who control advanced PGM and nickel projects preferably with Preliminary Economic Assessments and Feasibility Studies in top notch jurisdictions. Most of these stocks are smaller cap and trading on the Canadian Exchanges and will be the focus of additional articles.
This article is brought to you courtesy of Jeb Handwerger From Gold Stock Trades.
Want More Great Investing Ideas?