HAL stock has surged 5.4% this quarter despite coming off the energy sector's worst earnings season in years due to crashing oil prices.
According to FactSet, Q1 earnings across the sector saw an average year-over-year decline of 64.4%. That's the largest loss out of all 10 sectors on the S&P 500.
Halliburton's April 20 earnings report followed that trend. The company posted earnings per share (EPS) of $0.49, down 33% from $0.73 in Q1 2014. Revenue fell 2.7% to $7.1 billion over the same period.
But its lackluster earnings were nowhere near as bad as firms like BP Plc. (NYSE ADR: BP), Total SA (NYSE ADR: TOT), and Exxon Mobil Corp. (NYSE: XOM).
That's been a huge win for HAL, which is one of the few large oil stocks trading up so far this year.
Here's how the Halliburton stock price has moved compared to other notable oil companies…
How Does the Halliburton Stock Price Compare to Other Big Oil Stocks?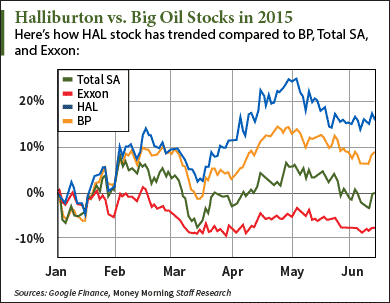 "Big Oil" is a term used to describe the world's largest publicly owned energy companies.
These companies – or "supermajors" – include BP, Total, and Exxon.
HAL stock has soared over all of them in 2015.
The Halliburton stock price has increased 17.6% since Dec. 31, 2014. That's 8.7% more than BP, whose Q1 profits fell 40%. BP's cash flow also plummeted more than 75%.
BP was the first Big Oil company to release Q1 earnings on April 28. Since then, BP stock has dipped 4.7%.
Meanwhile, Exxon and Total SA have slipped 8% and 0.3% this year. Exxon — the world's largest publicly traded oil company — saw a 46% earnings loss and a 36.7% revenue loss. Total's earnings were 48% lower than last year's earnings of $1.46 per share.
It's clear Halliburton is more profitable than most of the supermajors right now. The 38% drop in WTI oil prices over the past year has hurt the exploration and production firms more than oilfield service (OFS) companies.
But does that make Halliburton stock a buy?
Should I Buy at the Current Halliburton Stock Price of $45.60? 
As the second-largest OFS company in the world, Halliburton is in the best position to soar this year as a wave of M&A washes over the industry.
Small oil stocks are about to be bought out by much larger ones. The process will create a new group of heavyweight firms that will dominate the market.
"The most likely targets of M&A activity will be energy companies with attractive land leases, pipelines, or other assets, high levels of debt, and declining cash flows," Money MorningGlobal Energy Strategist Dr. Kent Moors said. "These types of companies could hand their shareholders a quick profit in 2015 if they get targeted."
In fact, Halliburton is in the process of making one of the largest acquisitions in the history of the OFS sector…
In November 2014, Halliburton announced it would buy Baker Hughes Inc. (NYSE: BHI) — the third-largest OFS company in the world — for $34.6 billion. The cash-and-stock deal was approved by shareholders on March 27 and is expected to close late in the second half of 2015.
By merging business lines, the new company will save costs and offer competitive bids on a wider range of jobs.
The Halliburton stock price has a one-year target estimate of $53.47 a share. That's 17.2% higher than yesterday's (Thursday) close of $45.62.
The Bottom Line: The Halliburton stock price has had a great year so far, gaining more traction than the entire energy sector. As one of the top OFS providers in the world, Halliburton is poised for long-term growth as it finalizes its Baker Hughes acquisition and M&A activity leads the market into the "new energy age."
Written By Alex McGuire From Money Morning
We're in the midst of the greatest investing boom in almost 60 years. And rest assured – this boom is not about to end anytime soon. You see, the flattening of the world continues to spawn new markets worth trillions of dollars; new customers that measure in the billions; an insatiable global demand for basic resources that's growing exponentially; and a technological revolution even in the most distant markets on the planet.And Money Morning is here to help investors profit handsomely on this seismic shift in the global economy. In fact, we believe this is where the only real fortunes will be made in the months and years to come.