From Chris Ciovacco: Economic data has begun to surprise analysts to the upside, and that's been a bigger factor in pushing the markets higher this year than the Federal Reserve.
Stocks Never Move Based On One Input
Are central banks the only reason stocks have not collapsed in 2016? The Citigroup Economic Surprise Index says no. From a Wall Street Journal article dated July 12:
"Economic data is finally beating expectations. The Citi U.S. Economic Surprise Index, which gauges how data compare with economists' forecasts, is at its highest since January 2015. Meanwhile, it's positive for the first time since November–meaning data are topping expectations rather than missing."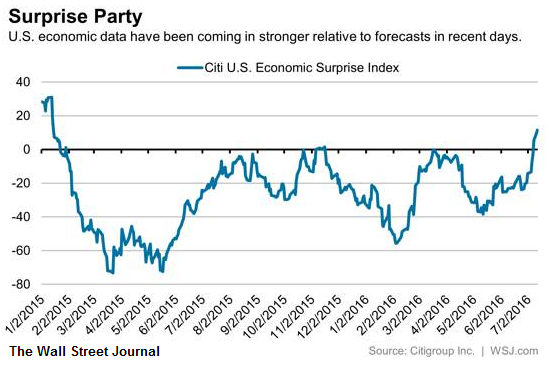 The S&P 500 Before The Data Started To Improve
On Monday, June 27, the Citigroup Economic Surprise Index was still in an indecisive range and the market was concerned about the economic impact of the recent Brexit referendum.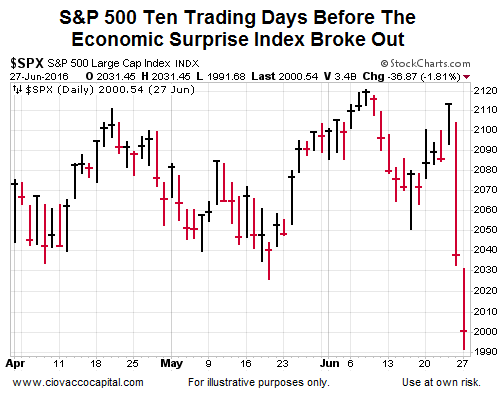 The S&P 500 After The Data Started To Improve
Central banks have played a big role in helping stocks get off the deck in 2016. However, the stock market has also responded to improving economic data.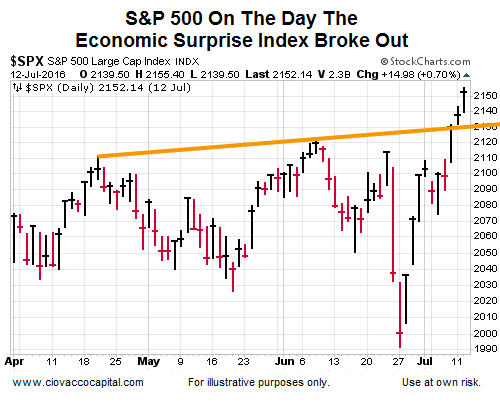 Post Brexit Economic Data
Not only has the economic data in the U.S. improved, but data in the wake of Brexit in the United Kingdom is also coming in better than expected. From CNBC:
U.K. retail sales posted a strong beat on Thursday, adding to a positive picture for the country's economy following the decision to leave the European Union. July retail sales – an indicator of post-Brexit vote sentiment – posted a monthly rise of 1.4 percent versus consensus expectations of a 0.2 percent increase. The yearly figure saw a rise of 5.9 percent, according to official data by the Office for National Statistics.
Investment Implications – The Weight Of The Evidence
As outlined in detail on August 17, the hard technical data has improved significantly since June 27. The Citigroup Economic Surprise Index tells us the economic data has also improved since June 27. The odds of success in economically-sensitive assets, such as stocks and commodities, improve when the technicals and fundamentals are singing from the same hymnal. The wisdom of the market wizards also reminds us to keep an open mind about the "whys" behind the recent push higher in equity prices.
"The second item is something that Ed Seykota taught me. When a market makes a historic high, it is telling you something. No matter how many people tell you why the market shouldn't be that high, or why nothing has changed, the mere fact that the price is at a new high tells you something has changed."

Larry Hite
Market Wizards
This article is brought to you courtesy of Ciovacco Capital.