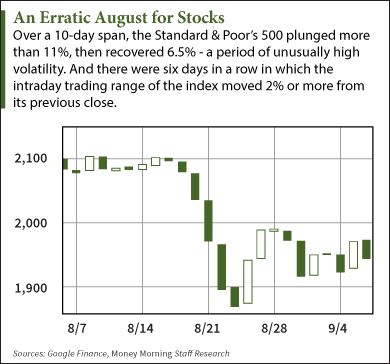 In one 10-day span, the Standard & Poor's 500 Index shed 11% – then rose 6.5%. And on Aug. 24, the Dow Jones Industrial Average plunged 1,000 points before recovering.
It's been enough to give any investor vertigo.
But why is stock market volatility so high? And what can investors do about it?
The reasons are complex and, as you might expect, interrelated. We break them down here – and give you a couple of profit tactics for volatile markets.
Stock Market Volatility Reason No. 1: Chaos in the Global Economy
While the U.S. economy is faring somewhat better, most the rest of the world is in economic turmoil. Commodities markets have collapsed. China suffered a stock market crash. Emerging economies that had been key sources of growth, such as Russia and Brazil, have hit a wall. Europe continues to struggle with the Greek debt crisis. All those concerns add up to a big heap of fear and uncertainty – a stock market's worst enemy.
Stock Market Volatility Reason No. 2: Falling Confidence in Central Banks
Economic problems around the world have led central banks to drop interest rates and launch their own versions of the U.S. Federal Reserve's bond-buying quantitative easing policy. Those policies, aimed at boosting economic activity and raising interest rates, have mostly failed. Instead, they've ramped up fears of a global currency war. Investors have grown increasingly anxious as it has become clear the central bankers have no answers.
Stock Market Volatility Reason No. 3: The U.S. Federal Reserve Guessing Game
Meanwhile, the U.S. Federal Reserve has spent months dropping hints that it will raise interest rates before the end of the year. Addicted to years of easy money, Wall Street has dreaded this moment. But the real issue now is figuring out when this will happen. Unclear economic data and contradictory statements from Fed governors have burdened traders with yet more uncertainty.
The last two reasons have served as accelerants to stock market volatility…
Stock Market Volatility Reason No. 4: The Herd Mentality
When the markets start acting crazy, a lot of "mom-and-pop" investors will panic and sell – which further feeds the volatility. But they're not alone. Institutional investors often think alike and react to changes in the market with similar strategies. That, too, breeds volatility as large groups of investors all march in the same direction.
Stock Market Volatility Reason No. 5: The Lack of the Human Touch
The proliferation of computer algorithms and high-frequency trading is another factor that amplifies volatility when stocks are making big moves. The computers often shut down when stocks start to fall too quickly. But that subtracts a huge amount of liquidity, making it even harder to sell shares. That sudden loss of liquidity has been blamed for "flash crashes" and certainly plays a part in worsening a market plunge in progress.
Unfortunately, most of these conditions won't end any time soon, meaning that stock market volatility will be with us for a while.
Here's what investors can do about it…
How to Cope with Stock Market Volatility
Money Morning's experts do not advise selling for the sake of selling. But in a volatile stock market, you do need to adjust your strategy.
Money Morning Capital Wave Strategist Shah Gilani recommends adding downside plays (shorts, put options, or inverse funds that gain in value when stocks fall) if the markets rebound from here. He believes stocks most likely will trend lower in the weeks ahead.
"Some good downside positions to consider buying include 'inverse ETFs' like the ProShares Short QQQ (NYSEARCA:PSQ) and ProShares Short Dow30 (NYSEARCA:DOG). These inverse plays will give you protection – and profits – should markets fall," Gilani said.
Money Morning Chief Investment Strategist Keith Fitz-Gerald thinks investors should fight stock market volatility with lowball orders.
That's when you set up an order to buy a stock you like at a low price you think it will reach when the markets go south. When the stock eventually rebounds, you reap the gains.
"This is NOT timing the markets," Fitz-Gerald said. "What you're doing here is laying a 'profit-trap' in advance of conditions that you know favor your money rather than the institutional traders who would otherwise take it from you."
Some examples on Fitz-Gerald's current list include Netflix Inc. (Nasdaq: NFLX) at $60, Apple Inc. (Nasdaq: AAPL) at $75, Gilead Sciences Inc. (Nasdaq: GILD) at $70, and Alibaba Group Holding Ltd. (NYSE: BABA) at $45.
"Lowball orders are a great way to profit from quick swings in the markets that would drive most investors straight to the poorhouse," Fitz-Gerald said.
The Bottom Line: Stock market volatility has been exceptionally high over the past month or so. The causes feeding it include global economic turmoil, ineffective central banks, a herd mentality, and computerized trading. But investors have several options for dealing with stock market volatility, including inverse funds and placing lowball orders.
Written By David Zeiler From Money Morning
We're in the midst of the greatest investing boom in almost 60  years.  And rest assured – this boom is not about to end anytime soon.  You see, the flattening of the world continues to spawn new markets  worth trillions of dollars new customers that measure in the billions;  an insatiable global demand for basic resources that's growing   exponentially; and a technological revolution even in the most distant  markets on the planet.  And Money Morning is here to help investors profit handsomely on this seismic shift in the global economy. In fact,  we believe this is where the only real fortunes will be made in the  months and years to come.