True, September has by far been the nastiest month for the Dow Jones Industrial Average (INDEXDJX:.DJI) over the last century, with an average loss of 0.8%. That compares with an average gain of 0.8% in the other 11 months. Since 1929, the Dow average performance for September has been a 1.24% loss (see the following chart).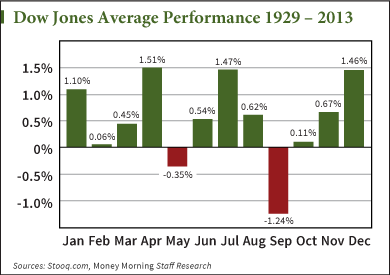 The S&P 500 Index, meanwhile, has ended the month with an average loss of 0.5% since 1950.
September's ominous reputation tends to drive some short-term traders to pare down their stock portfolios as the month approaches, or at least to remain guardedly on the sidelines sitting on cash they have accumulated.
Concerns for a September swoon have intensified this year because more than three years have passed without a market correction (a decline of at least 10%). The historical average is for one correction occurring about every 12 months.
Also currently weighing on investor sentiment are mounting geopolitical tensions, the ailing Eurozone economy, and prospects of higher interest rates stateside.
But over the last several years, September has actually been good to investors. Over the last five years, the S&P 500 and Dow have been up 2% on average.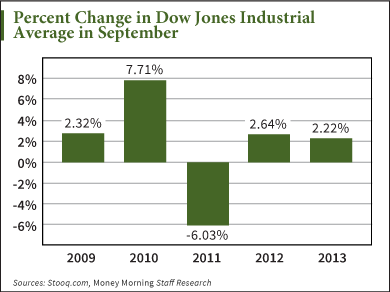 But you can be prepared no matter what happens – and here's how…
In the event that the markets do take a dive this September, Money Morning Capital Wave Strategist Shah Gilani says dumping everything is a bad idea.
"I'm a strong believer that you have to be in it to win it," he said.
Gilani specifically recommends big cap, high-dividend stocks for weathering any market downturn.
"They'll hold up in a sell-off, and will go back up when the market recovers," he said. "And in the meantime, you'll get the dividend income."
Of course, there's another way to make money should stocks go down – short selling.
The Wall Street "rule" that you can only make money when stocks go up isn't true – there's another side of the trade, and it's loaded with profit potential.
Written By Diane Alter From Money Morning
We're in the midst of the greatest investing boom in almost 60 years. And rest assured – this boom is not about to end anytime soon. You see, the flattening of the world continues to spawn new markets worth trillions of dollars; new customers that measure in the billions; an insatiable global demand for basic resources that's growing exponentially; and a technological revolution even in the most distant markets on the planet.And Money Morning is here to help investors profit handsomely on this seismic shift in the global economy. In fact, we believe this is where the only real fortunes will be made in the months and years to come.